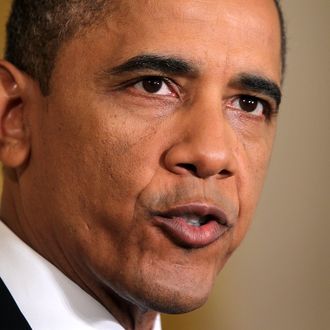 Photo: Alex Wong/2013 Getty Images
The New Republic is showing off its website redesign with a 45-minute White House interview with President Obama, who discussed Congress, the dangers of football, and guns with editor-at-large Franklin Foer and new owner (and former staffer) Chris Hughes. The most pull-ready quote from the conversation is Obama's response to a question about whether he had ever used a firearm: "In fact, up at Camp David, we do skeet shooting all the time." That reveal gave him a good opportunity to reach out to sportsmen who might oppose his new push for gun control legislation.
Part of being able to move this forward is understanding the reality of guns in urban areas are very different from the realities of guns in rural areas. And if you grew up and your dad gave you a hunting rifle when you were ten, and you went out and spent the day with him and your uncles, and that became part of your family's traditions, you can see why you'd be pretty protective of that.

So it's trying to bridge those gaps that I think is going to be part of the biggest task over the next several months. And that means that advocates of gun control have to do a little more listening than they do sometimes.
When asked about the current gridlock in D.C., Obama expressed hope about the possibility of developing a better working relationship with congressional Republicans, though he seemed to be asking for a little cooperation from the media, as well:
I think if you talk privately to Democrats and Republicans, particularly those who have been around for a while, they long for the days when they could socialize and introduce bipartisan legislation and feel productive. So I don't think the issue is whether or not there are people of goodwill in either party that want to get something done. I think what we really have to do is change some of the incentive structures so that people feel liberated to pursue some common ground.

One of the biggest factors is going to be how the media shapes debates. If a Republican member of Congress is not punished on Fox News or by Rush Limbaugh for working with a Democrat on a bill of common interest, then you'll see more of them doing it.
He added that Democrats were not above attacking party members who compromised with Republicans. However, he said, "I think the difference is just that the more left-leaning media outlets recognize that compromise is not a dirty word."
This being the weekend before the Super Bowl, the president also answered a question about the negative, long-term effects of football on some of the sport's players:
I'm a big football fan, but I have to tell you if I had a son, I'd have to think long and hard before I let him play football. And I think that those of us who love the sport are going to have to wrestle with the fact that it will probably change gradually to try to reduce some of the violence. In some cases, that may make it a little bit less exciting, but it will be a whole lot better for the players, and those of us who are fans maybe won't have to examine our consciences quite as much.
But when asked about how he "wrestled morally" with the violence in Syria, Obama seemed less sure about the correct path. After responding with a series of questions about the consequences of intervening in the conflict — both for Syrians and American troops — he concluded, "Those are not simple questions. And you process them as best you can."