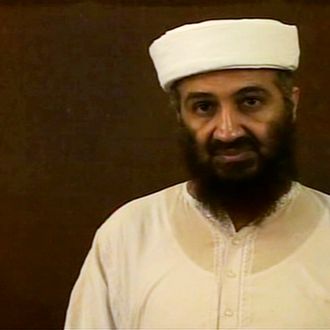 The graphic photos of Osama bin Laden's dead body remain secret even as a film depicting the raid that killed him, made with the assistance of the CIA, powers through awards season. Judges hearing the Freedom of Information Act appeal by conservative group Judicial Watch for release of the photos seem prepared to keep it that way: "They're telling us it's a risk … that Americans will die if we release these documents," said Judge Merrick Garland yesterday, adding that "when the government tells us this is likely to lead to death, shouldn't we defer to that [even] more than when they say it will result in the release of secret information?"
"The risks of release outweigh the benefits," said President Obama in his original decision, adding that "there is a real risk that releasing the photos will only serve to inflame public opinion in the Middle East."
"Almost anything associated with him is necessarily of concern," said Judge Judith Rogers, who is also hearing the case. McClatchy reports, "The explicit fears raised by two members of a three-judge appellate panel during oral argument provided a strong indication, though no guarantee, that the court will side with the Obama administration in keeping the bin Laden photos secret."
Rogers also mentioned "the concern that these images could be used as propaganda," an argument that gets more complicated considering the conversation swirling around the Oscar-nominated Zero Dark Thirty. While both the Pentagon and the CIA have refused to turn over anything in response to FOIA requests — with the CIA not even responding to the AP's May 2011 filing — a separate Judicial Watch report revealed the government access provided to filmmakers Kathryn Bigelow and Mark Boal.
"I can't tell you how excited we all are … about the project," the CIA's public affairs at the time wrote to the screenwriters. "It's been a real pleasure to help facilitate things." One CIA official said the agency wanted to "get behind the winning horse," the "first and biggest" film about the raid. The movie has since been called propaganda in its own right, criticized for distorting history with regards to torture, and dubbed "one of the most successful recruitment vehicles [for the CIA] of all time."
While the government was prepared to push along the Hollywood account, which the CIA cautioned "departs from reality," a Justice Department attorney argued yesterday, "Release of these materials could reasonably be expected to harm national security." The actual pictures are just too real.