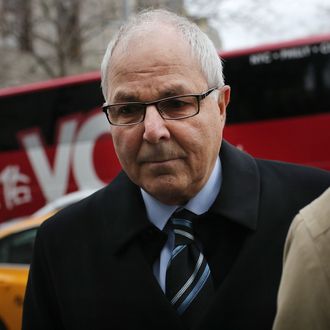 67-year-old Peter Madoff.
Photo: Spencer Platt/2012 Getty Images
Sure, we may all think it's a little unfair that Peter Madoff gets two extra months of liberty after pleading guilty and being sentenced to ten years in the "cushy" federal prison in Otisville. But this morning's New York Post seems downright furious at the discovery that Bernie's younger brother "partied hearty" for his granddaughter's bat mitzvah this weekend … so they let the idioms abound.
First, there's the lede: "Let them eat lox!" There was "catered salmon, tuna and bagels" for the Madoff family to "nosh" on at the "posh Pavilion Room" downstairs in Central Synagogue, but no mention of diamond-encrusted shmear anywhere though.
Then there was the Post's description of brother Madoff's time on stage: "He said a brief prayer in Hebrew and touched his lips to the Torah — just like he'll be kissing his freedom goodbye in two weeks."Boy will he ever - even though the incarceration was delayed, it is still scheduled to start on Feb. 6.
Of course, no Post story would be complete without the victim's side of the story, so they rounded up two people who lost most everything in the Madoff Ponzi scheme. "I would much prefer that Peter Madoff be locked up and the only way he can attend the bat mitzvah is through pictures sent to him in prison," said one.
In contrast, the family, Peter included, will "trip the light fantastic" with a 200-guest celebration for 13-year-old Rebecca Skoller today at 404 NYC. Unlike a little lox, the estimated $75,000-to-$100,000 price tag on the event is really something to give "Madoff's victims indigestion."