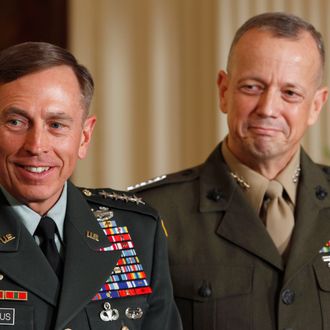 Petraeus, pictured with fellow general who had nothing to do with his love life.
Photo: Chip Somodevilla
As you may recall, before the scandals over fake singing, fake girlfriends, and fake sports achievements, the nation was briefly captivated by General David Petraeus and his very real affair with biographer Paula Broadwell. On Tuesday, the Defense Department gave an update, revealing that the relationships between the other members of the Pentagon of Love were somewhat odd, but ultimately innocent. After examining hundreds of e-mails between General John Allen and Tampa socialite Jill Kelley — not tens of thousands, as was initially reported — the Pentagon's inspector general has cleared the top U.S. commander in Afghanistan. Though, frustratingly, there are still new hints about why these e-mails sparked suspicion in the first place.
During the FBI's investigation into anonymous threatening messages Broadwell sent to Kelley, the agency uncovered correspondence between Kelley and Allen that was either totally innocuous, flirtatious, or  "like phone sex," depending on the source. Defense Secretary Leon Panetta ordered a formal inquiry, prompting the White House to put Allen's nomination to become the supreme allied commander in Europe on hold. Allen received a letter saying he'd been cleared of any wrongdoing on Friday, and on Tuesday, Pentagon spokesman George Little said that Panetta was "pleased to learn that allegations of professional misconduct were not substantiated by the investigation," adding that the secretary "has complete confidence in the continued leadership of Gen. Allen, who is serving with distinction in Afghanistan."
Officials tell the Washington Post that Panetta might have decided to investigate Allen just to emphasize that the Defense Department wasn't ignoring potential misconduct, but one suggested again that there might be something mildly untoward in the e-mails. "Some of the messages are not the sort of things you would print in a family newspaper," the official said. "But that doesn't mean he violated military regulations by sending and receiving them."
So while it's still possible that Allen dropped the occasional four-letter word, or was too liberal with his use of the term "sweetheart," presumably the White House can now move forward with making him the top NATO commander. As for Kelley, she launched a mini-media campaign on Tuesday, talking with Howard Kurtz for the Daily Beast and writing a Washington Post opinion piece with her husband. Kelley has always insisted that there was nothing romantic about her friendships with two of America's top generals, and she revealed that all of her correspondence with the pair went through an account she shares with her husband. Broadwell's troubling notes went to the same address, and contrary to previous reports of a perceived romantic rivalry, Kelley says she wasn't warned to stay away from Petraeus and "I didn't even know it was a female." The content of the e-mails remains a mystery, but they sound like the least effective threatening messages ever written.