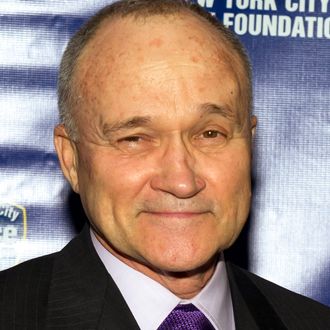 Photo: Michael Stewart/2011 Michael Stewart
Wherever NYPD Commissioner Ray Kelly goes, protesters follow. Just this week, at a mayoral forum, Democratic favorite Christine Quinn was booed for saying she "would be lucky" if he stayed on should she win. And yet the most vocal New Yorkers — pissed over excessive stop-and-frisks, baseless spying, and so on — do not speak for all, or even most, New Yorkers: A new poll from Quinnipiac gives Kelly a 75 percent approval rating, his highest ever.
That's higher than Mayor Bloomberg's approval, and carries across both parties, all races, and both genders. Black voters come in the lowest, with 63 percent approving of the job Kelly's doing. "Perhaps because of the Newtown massacre or because of the recent announcement that murder in the Big Apple is at an all-time low, or both, New York City voters like their top cop and all their cops even more," said polling director Maurice Carroll.
While 50 percent of voters do disapprove of stop-and-frisks, 46 percent approve, and 63 percent of those surveyed said a mayoral candidate keeping Kelly on would be a positive thing. Quinn's rivals for the Democratic nomination, including Comptroller John Liu, Public Advocate Bill de Blasio, and 2009's loser Bill Thompson, have vowed to replace Kelly. They're also all way behind in the polls.