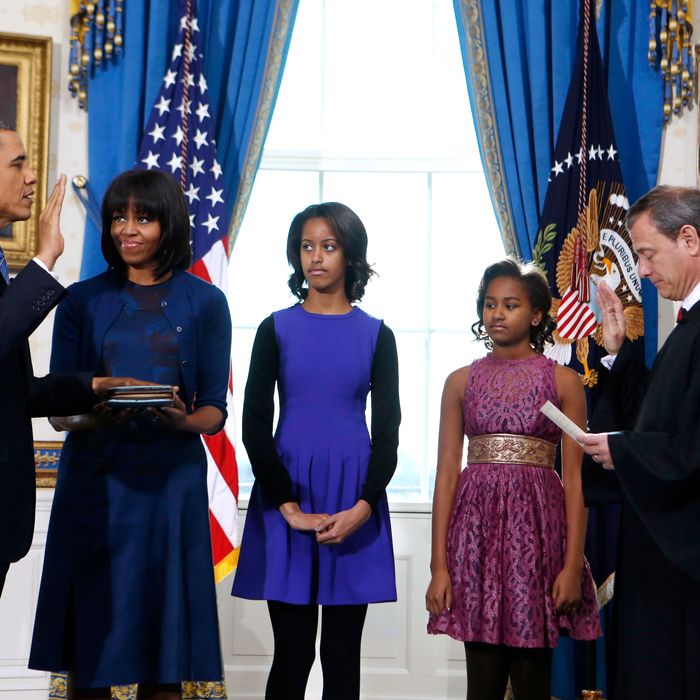 Photo: LARRY DOWNING/AFP/Getty Images
Every week, New York Magazine writer-at-large Frank Rich talks with assistant editor Eric Benson about the biggest stories in politics and culture. This week: Obama's inaugural, the GOP's debt-ceiling surrender, and the future of abortion rights.
President Obama's second inaugural address has been widely praised by liberals for championing "collective action" and advocating for gay rights, climate-change legislation, and progressive immigration reform. This speech was one of Obama's clearest articulations of his progressive worldview, rivaling the effectiveness of Bill Clinton's turn at the Democratic Convention. Will it matter?
A fine speech, but only actions matter, of course. There are limits on what any president can achieve when (a) Congress is held hostage by radicals of the other party and (b) he will be a lame duck in about eighteen months. Any progress on climate change and on gun control may well depend on whatever Obama can accomplish through executive actions. On immigration reform, the president has the leverage to achieve more. Even the present-day GOP isn't enough of a suicide cult to keep antagonizing and demonizing the fast-growing Hispanic electorate that threatens its very existence. It's also possible that the president's rhetorical elevation of gay rights, including marriage rights, to the pantheon of historic American civil rights battles, equating Stonewall with Selma and Seneca Falls, may have some impact on John Roberts, the legacy-minded chief justice. As I've said before, I doubt Roberts wants to go down in history as the jurist who blocked equality for gay Americans, particularly since full equality increasingly looks inevitable. Obama's formulation crystallized the crossroads at which Roberts finds himself: He can be the Earl Warren of Brown v. Board of Education or Roger Taney, whose court delivered the infamous Dred Scott decision before the Civil War. 
Conservatives were largely critical of Obama's inaugural address, with John McCain saying he wished the president had done a "little more outreach" and Paul Ryan accusing him of "shadowbox[ing] a straw man." Does the GOP reaction tell us anything about what's going to happen over the next year and a half?
So what else is new? It would have been shocking if they had liked the speech; they've loathed Obama from day one. Indeed, it's somewhat alarming to learn that Newt Gingrich was the rare Republican to praise the president, calling the address not particularly liberal and extolling "95 percent" of it as "classically American." It's enough to make one fear that Newt, ever the opportunist and something of a pariah in his own party after his vitriolic assault on Romney and Bain, has a new political reinvention up his sleeve. The Democrats batten down the hatches.
House Republicans are expected to pass a bill later today that would ignore (but not raise) the debt ceiling, with May 18 selected as the next false doomsday deadline. Was this a shrewd political move from the Party of No? Or was it, as tea-party Senator Rand Paul sees it, a GOP retreat?
Here is a sentence I won't be using often: Rand Paul is right. No matter how they try to spin it with Frank Luntz–approved language, the House Republicans have, as Paul put it, waved "the white flag of surrender," abandoning their previous imperative that any extension of the debt limit must be tied to matching budget cuts. This was the second GOP white flag between the election and the Inaugural, the first being the collapse of the Republican pledge to never raise taxes during the "fiscal cliff" standoff. This shows what the post-Kumbaya Obama can achieve with the wind of victory at his back, when he holds to his key principles, and when he abandons fantasies of bipartisan compromise with the Party of No. 
Obama's inauguration coincided with the release of a new NBC-WSJ poll showing a small uptick in support for abortion rights on Roe v. Wade's 40th anniversary. (Overall, 70 percent of Americans now favor upholding Roe and a majority has long favored legal abortions.) But while Obama ran on abortion rights, he declined to mention them in his inaugural despite name-checking gay rights, immigrant rights, civil rights, and equal pay for women. How essential are abortion rights to the progressive platform? The Roberts court has already stood up for guns. What if it further chips away at choice?
It was an odd omission by Obama, but I doubt we should read anything into it, anymore than we should overinterpret his scant allusion to gun control. What is significant is that Bill McInturff, the Republican pollster who collaborates on the NBC-WSJ poll, pronounced the rise in Roe support as "profound." Not only did 70 percent favor upholding Roe, but 57 percent felt "strongly" about it. My own strong conviction is that abortion rights are essential, period; I find the notion that government would regulate women's health decisions appalling — as do most Americans, including libertarian conservatives in the Goldwater tradition. I think the uptick in Roe support happened because the 2012 tea party GOP senatorial candidates Todd Akin and Richard Murdock, with their outlandish remarks about rape, along with Rush Limbaugh's verbal assault on the Georgetown University law student Sandra Fluke, alerted American women to the growing threat to their reproductive rights. If the Roberts court undermines reproductive rights, it's tragic news for American women but it may further mobilize voters to support the party that will push back.
Our colleague Joe Hagan broke a story that Donald Trump "has engaged in more than one meeting" to explore buying the Times. One imagines a Trump takeover is unlikely, but that said, how do you imagine the Donald would reshape the Gray Lady?
Whatever the fate of the Times, it is a sure bet that Trump will not be a player. As a fan of the old, long-defunct Trump board game, what I do look forward to is a Trump app, which could be one-stop shopping for his various self-promoting PR campaigns, his Obama conspiracy theories, and his daily Twitter temper tantrums.  As for Trump the erstwhile media mogul, I doubt he could even reshape the New York Observer, which is owned by his son-in-law.