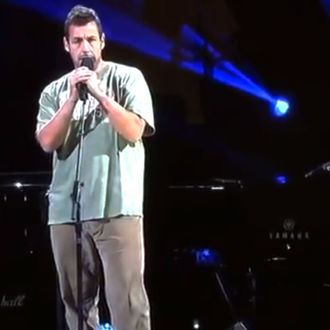 Adam Sandler at the 12-12-12 concert, raising money for Hurricane Sandy relief.
Photo: Youtube
According to New York Attorney General Eric Schneiderman, his office surveyed the 88 nonprofit groups soliciting donations for Hurricane Sandy relief. All together, they've raised over $400 million. No surprise, the majority of funds came from charities like the American Red Cross, the Robin Hood Foundation (who received the 12-12-12 concert loot), the Mayor's Fund to Advance New York City, the Empire State Relief Fund, and The Salvation Army.
Schneiderman says he will keep a close watch on how that money is spent and he'll even empower donors to check each organization's progress through the attorney general's website. Here's hoping that happens before FEMA housing money runs out for displaced victims.