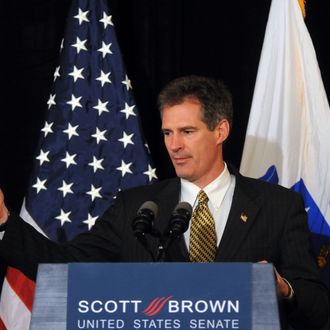 Scott Brown.
Photo: Darren McCollester/Getty Images
Last night, with a cryptic post to Twitter, Scott Brown seemed to confirm his intention to run for John Kerry's soon-to-be vacated Massachusetts Senate seat. "Yes. Get ready," wrote Elizabeth Warren's bro-y onetime rival. His detractors were quick to respond to him directly. "Oh we are. You have no idea how ready #MAPoli is to vote to keep you in the private sector & out of #MASen," sneered one Twitter user. Luckily, Brown had a time-tested comeback all ready for him.
The negativity kept rolling in, but Brown continued to dismiss it with the articulate grace of a sullen teen.
He got in a few more (since-deleted) "whatevers," though it seems that frustration may have caused a slip of the finger at least once:
Scott Brown: Always elevating the discourse.