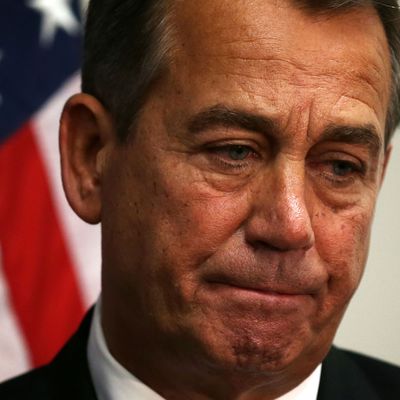 Photo: Alex Wong/Getty Images
The torrent of blame unleashed on John Boehner and his House Republicans yesterday — much of it from within their own party — over the failure to pass a relief bill for victims of Hurricane Sandy seems to have accomplished something. Although he stayed mostly silent through a day of verbal lashings, Boehner told local leaders privately that he would hold a vote tomorrow on $9 billion for a flood insurance program, with the rest of the $60 million package to be put before the House on January 15. In a joint statement with Eric Cantor yesterday, Boehner reiterated that "getting critical aid to the victims of Hurricane Sandy should be the first priority in the new Congress." But all is not forgiven just yet.
New York Representative Peter King, who led the charge against Boehner from within the Republican Party, has calmed down some from yesterday, when he said, "Anyone from New York or New Jersey who contributes one penny to congressional Republicans is out of their minds," with smoke practically erupting from his ears. "Whether we agree or disagree, obviously we made our position clear," said a mollified King after speaking with Boehner. "That's in the past."
Mayor Bloomberg, though "disappointed," was similarly understanding about the delay. "As long as it turns out we get the money," he said, "all's well that ends well."
Still, the wonderfully brusque Chris Christie, who slammed Boehner with the most might yesterday, calling the decision to pull the vote "disappointing and disgusting," is less ready to accept an attempt at reconciliation until he sees action. "I'm not going to get into the specifics of what I discussed with John Boehner today," Christie said yesterday. "But what I will tell you is there is no reason at the moment for me to believe anything they tell me. Because they have been telling me stuff for weeks, and they didn't deliver." Time — but mostly money — heals all wounds, so let's talk again in a few weeks.