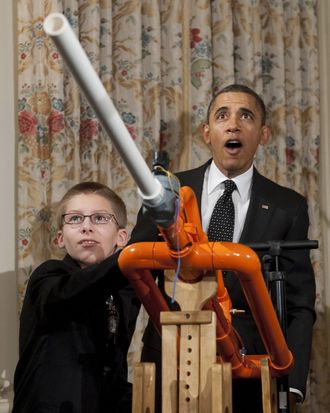 US President Barack Obama reacts as 14-year-old Joey Hudy of Phoenix, Arizona, launches a marshmallow from Hudy's "Extreme Marshmallow Cannon" during a tour of the White House Science Fair in the State Dining Room of the White House in Washington, DC, February 7, 2012. Obama announced new policies to recruit and support science, technology, engineering and math (STEM) teacher programs, including requesting $80 million in his upcoming budget for teacher preparation, with the goal of training one million additional STEM students over the next decade.
Photo: Saul Loev/AFP/Getty Images
Just as we did earlier this week, the Washington Post's Fact-checker blog has searched high and low for evidence of Obama's frequent forays into skeet-shooting, but came up empty. And the White House isn't eager to provide any proof; it ignored three e-mails from the Post requesting the name of someone who had gone skeet-shooting with Obama. But the Skeeters will not be ignored. The Skeeters will not be silenced!