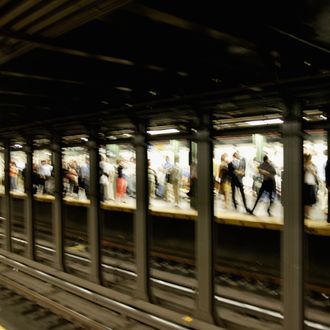 Photo: Andria Patino/Corbis? Corbis. All Rights Reserved.
For most New Yorkers, a recent string of brutal subway deaths, covered exhaustively by the tabloids, has made us extra jumpy on the platforms, reminding us to stand far away from the tracks and keep to ourselves. Not Army veteran and Harlem cab driver Isidore Branham: When he saw a drunk man passed out on the tracks, it triggered his dormant hero tendencies. "My instincts just came alive," he told the New York Post. "All the training kicked in. I thought, 'I'm here. I can't let this man die." Some people have it, some people do not — the least the rest of us can do is take pictures.
According to the Post and witness accounts, the 2 train was pulling into the station, but had been given time to slow down by the MTA clerk, giving Branham, a big guy himself, time to rescue the even bigger Timothy Moriarity:
"He was inside the railbed between the ties. I picked him up from his arms and dragged him across the rails," he said. "Once I got to the platform, I picked him up from the waist. I wanted to do a fireman's carry but there was no time. The train was coming.

"I grabbed him by his belt. I scooped him up and pushed him on the platform. I curled him and lifted him in front of my body. This guy was really heavy. It was a shock to my body, but I was strong enough." […]

"I felt this man shouldn't die this day, not while I knew I was capable. I was the man for the job. I used to work in transit. I've been on the tracks. I know how dangerous they are.

"About 45 seconds after I got him on the platform, the train passed by safely. I backed away when cops and EMS arrived."
Not that we doubt his story, but the only thing that would really cement Branham's hero status in this day and age is a cell-phone video. Weak and helpless bystanders, do not be ashamed — we know you're out there.