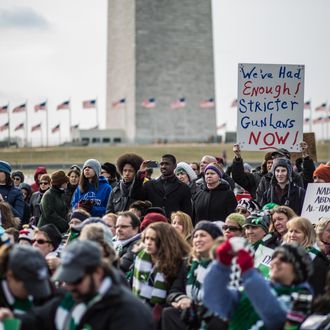 Photo: Brendan Hoffman/2013 Getty Images
An estimated 6,000 people showed up for a Washington, D.C. rally for increased gun control on Saturday afternoon. About 100 residents of Newtown, Connecticut participated in the demonstration, which began with a silent march from Capitol Hill to the Washington Monument and ended with speeches from lawmakers and others calling for universal background checks on gun-buyers and bans on assault weapons and high-capacity ammunition.
Secretary of Education Arne Duncan "grew emotional" while speaking to the crowd about his time as the head of Chicago's public schools. "Every two weeks, we lost a child to gun violence," he said. "Far too many of our children are growing up in climates where they are scared. That has to change … This march is a starting point. It's not an ending point." He promised that he and President Obama would work to institute new firearms policies, though he was sure to describe himself as "a respecter of the Second Amendment, a lover of the Second Amendment."
D.C.'s non-voting representative in Congress, Eleanor Holmes Norton, was a bit more aggressive. "Today we join the majority of Americans who want to move this country off the outskirts of civilization into the civilized world of nations who protect their children," she said. "Only an outraged public can end the gun violence that has enveloped our country. We the people who did not act before, we the people this time will step forward." Maryland Representative Chris Van Hollen and D.C. Mayor Vincent Gray also addressed the marchers.
The event was put together by Molly Smith, the artistic director of Washington's Arena Stage, who told reporters that she'd never organized a political rally before. She explained that she was inspired to act in the wake of the Newtown shooting, which she found uniquely horrifying. "With the drum roll, the consistency of the mass murders and the shock of it, it is always something that is moving and devastating to me. And then, it's as if I move on," she said. "And in this moment, I can't move on. I can't move on." After Smith began putting together the march on Facebook and Tumblr, One Million Moms for Gun Control, the Washington National Cathedral, and two other churches came forward to assist her, and they eventually raised over $50,000 online for fees and equipment for Saturday's demonstration. Echoing Duncan's remarks, Smith said that she saw the event as the start of a movement: "I'd like to have a march every month."