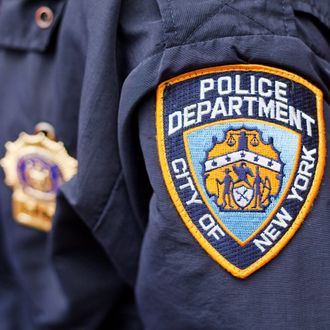 It's been a rough evening for New York cops as one was shot three times and another reportedly grazed during a shoot-out in a Brooklyn subway station, less than an hour after another off-duty officer also took a bullet to the leg during a botched robbery in the Bronx. The subway shoot-out at the Fort Hamilton Parkway N stop left the one alleged gunman dead after he reportedly opened fire on undercover officers who approached him as he was walking between cars on a train that rolled into the station at 7:32 p.m. The officers, Michael Levay and Lukasz Kozicki, showed him their shields and started to explain why he couldn't walk between cars, The New York Times reports. "He moved as if to comply, the police said, but pulled a gun and shot Officer Kozicki once in each thigh and in the groin, and Officer Levay once in the back." Protected from serious injury by his vest, Levay fired seven shots in response, killing the man.
In the Bronx robbery, which went down just after 6:30 p.m., four men held up a car dealership on Boston Road in the Allerton neighborhood, which the off-duty officer's family owns. Two walked into the dealership pretending they wanted to buy a car, but then one pulled a gun, the Daily News reports. He held the off-duty officer, Juan Pichardo, and another employee, at gunpoint while the two ransacked the dealership, The Times reports. That's when Pichardo rushed at the robber, who shot him in the leg, but he was able to subdue the gunman with the help of his coworker. The other three suspects fled, but police tracked them down and arrested them shortly after.
All three officers will recover, Police Commissioner Ray Kelly said in a news conference following the shootings. Mayor Michael Bloomberg used the opportunity to renew his calls for stricter gun control laws. "In recent weeks we've heard that what stops a bad guy with a gun is a good guy with a gun," he said, referring to a recent speech from NRA president Wayne LaPierre. "But sometimes the good guys get shot."
This story has been updated throughout.