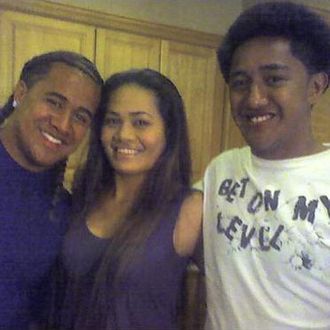 Tino and Ronaiah, evil cousins.
The latest development in a story that has had more twists and turns than Owen Wilson's nose is, finally, one that actually reflects well on Manti Te'o. Yesterday, the lawyer for the hoax's mastermind, Ronaiah Tuiasosopo, told the Daily News that his male client was the feminine voice of Lennay Kekua that Te'o had been speaking to on the phone nearly every day. Even though Te'o doesn't seem like his generation's sharpest mind, we found that hard to believe. Apparently our suspicion was justified: After Te'o released three voice mails on Katie Couric's show yesterday, the Post learned from Tuiasosopo family members that the voice was actually that of Ronaiah's female cousin, Tino:
"Tino is the girl that Manti has been talking to all these months," said a Tuiasosopo cousin …

After hearing the voicemails, one of Tino's cousins told The Post, "There is no doubt whatsoever that it's Tino."
Reached by the Post, Tino's dad didn't do anything to contradict such assessments:
Tino couldn't be reached for comment. Her dad, Bob, declined to talk about the situation, saying, "I don't want to divulge anything."
As always, there remain some unanswered questions. The Post reports that Tino Tuiasosopo only entered the scheme in late 2011, but Te'o and "Lennay Kekua" had spoken on the phone long before then. If the Post's timeline is accurate — and we have no idea whether or not it is — then Tino wasn't the only Phone Kekua. 
Additionally, as Deadspin notes, Te'o says Kekua had a southern California phone number, but Tino lives in Pago Pago, American Samoa. Maybe she bought it in Los Angeles. Who knows?
What's important is that Te'o, for once, is less of a sap than we had figured, not more.