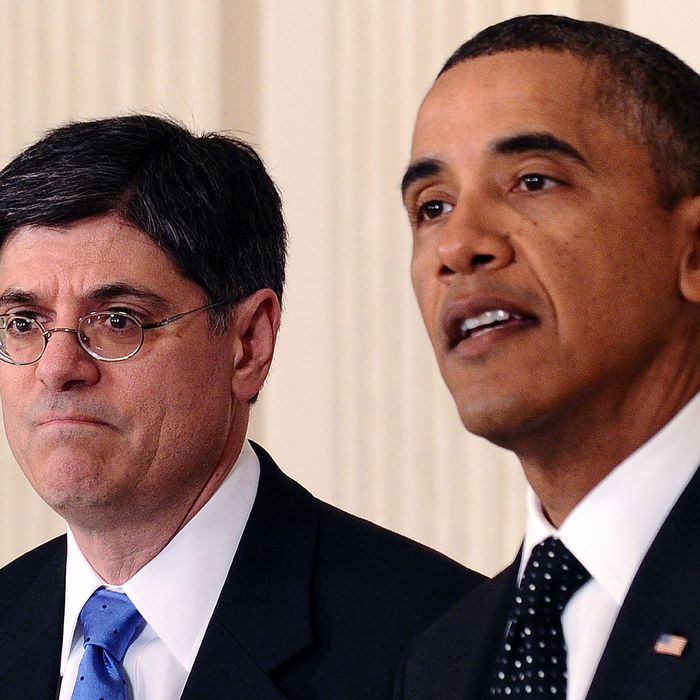 Damning photographic evidence of Jacob Lew's radical left-wing associations.
Photo: Jewel Samad/AFP/Getty Images
President Obama has formally decided to nominate Jack Lew, his chief of staff, for Treasury secretary. Republicans are already complaining about Lew, reports Politico's Manu Raju. Lew's disqualification, according to numerous Republicans quoted in the story, is that he doesn't agree with Republicans on public policy issues. The quotes are sort of amazing:
Johanns said it's also about policy, saying a Lew choice would be "controversial."

"I just think there are economic policies in this administration that haven't been well received, and Jack Lew is in the middle of that," he said.

"We've got to have a person who has credibility with the leaders of the American and world economy, someone who has credibility with the Congress, and I would feel like Mr. Lew's nomination would be a mistake," Sessions said.
Obama can't have a Treasury secretary who agrees with Obama's policy agenda!
The sudden gang-up on Lew is doubly amazing since, until approximately today, he was a figure of high repute within Washington. Lew's image was that of sobriety and willingness to bargain. That was the thrust of a 2011 Washington Post profile of Lew (Republican Dave Camp quote: "You feel like you're reaching him when you talk to him. I think he gets the art of the possible"). It was also the thrust of this 2011 Politico profile (Eric Cantor — yes, Eric Cantor! — quote: "He was always very polite and respectful in his tone and someone who I can tell is very committed to his principles"). And it was also the thrust of a 2012 New York Times profile (Republican aide Jim Dyer quote: "We walked away from the table perhaps happy to be away from each other for a while, but perhaps equally happy that we preserved a modicum of what each side wanted").
Now Lew is unacceptable because Republicans want to pick the person on both sides of the negotiating table. It is remarkable how the unstated standard of cabinet acceptability seems to be shifting before our eyes. The basic assumption is no longer that the president needs only to appoint people who are broadly qualified and not wildly more radical than himself. It's that the cabinet represents a kind of middle ground between the president and the opposing party. Agreement with Obama on public policy issues is now a disqualification rather than a qualification.