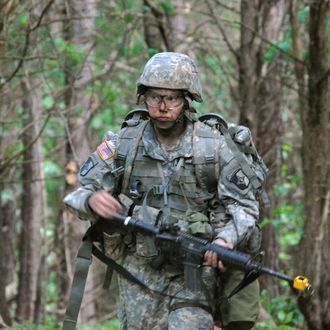 Photo: Kristin M. Hall/AP
Outgoing Secretary of Defense Leon Panetta has opted to lift the ban on women serving in military combat before he goes, the Associated Press reports. "We will eliminate the policy of 'no women in units that are tasked with direct combat,'" a defense official confirmed to CNN, but noted "not every position will open all at once on Thursday," when Panetta makes the announcement. An "assessment phase" will follow, and from there, "We expect some jobs to open quickly, by the end of this year. Others, like Special Operations Forces and Infantry, may take longer."
While the AP reports that the move "could open more than 230,000 jobs, many in Army and Marine infantry units, to women, certain jobs may remain "closed," according to CNN, which provides a full breakdown of the process:
The official says the goal remains to open as many as possible. "We should open all specialties to the maximum extent possible to women. We know they can do it."

The Pentagon must notify Congress of each job or unit as it is sent up to the secretary to be "opened" to women. And then the Defense Department must wait 30 days while Congress is in session before implementing the change.
In response to a lawsuit filed last year by female Army reservists, a spokesperson for Panetta said he was "strongly committed to examining the expansion of roles for women in the U.S. military, as evidenced by the recent step of opening up thousands of more assignments to women." 
Looking forward, the Washington Post wondered just two weeks ago, "Would Hagel stay the course for women in the military?" noting that "Panetta"s two-year tenure has coincided with important milestones for servicewomen":
The National Defense Authorization Act passed late in the last Congress included an amendment lifting a ban on insurance coverage for servicewomen seeking abortions in hospitals abroad in cases of rape and incest. As a senator, Hagel several times voted against allowing servicewomen to get abortions in military hospitals. 

Panetta ordered policies to crack down on shockingly high rates of sexual abuse — most of it unreported — in the military. He also took steps to allow women to serve closer to the front lines (though he was sued by four servicewomen in November over a policy that keeps women out of combat).
Adam Cohen of Time laid out the case last month: "Many military women — who constitute 14% of the 1.4 million active members of the military — object to the policy because it blocks them from applying for some 238,000 jobs and excludes them from certain promotions," he wrote. "[T]he Pentagon should not wait for the courts to order it to treat female service members equally. There can be little doubt that a court will eventually do just that — and little doubt that, in the very near future, the no-combat rule, like the racial segregation of troops and 'Don't ask, don't tell,' will seem like an ancient relic of unenlightened times."