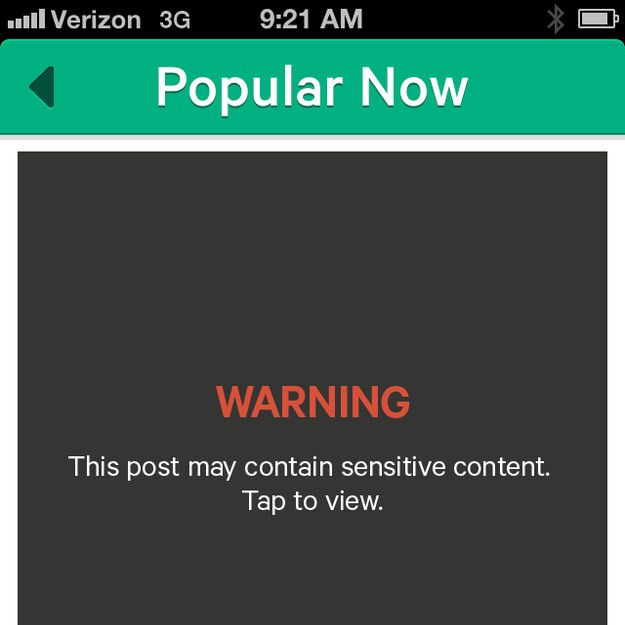 The most famous Vine Porn so far.
Photo: BuzzFeed
If you've heard about one thing today, it's Vine Porn. But if you're like most Americans, you have no idea what Vine Porn is, why people are upset about it, or whether you should be watching it. Well, wonder no more.
Wait, forget about Vine Porn — what is Vine?
Vine is an iPhone app introduced by Twitter last week that allows you to create looping, six-second video clips ("vines") with your camera, then post them to  Twitter, Facebook, or Vine itself.
What is Vine Porn?
Vine Porn is a vine of a pornographic nature, perhaps involving boobs or a penis or intercourse.
Is Vine Porn allowed to be on Vine?
It actually is. Vine's Terms of Service do not forbid explicit imagery, though it does specifically bar content that:
Impersonates another person or entity in a manner that does or is intended to mislead, confuse, or deceive

 

others;
Violates the rights of a third party, including copyright, trademark, privacy, and publicity

 

rights;
Is a direct and specific threat of violence to

 

others;
Is furtherance of illegal activities;

 

or
Is harassing, abusive, or constitutes

 

spam.
Why is everyone so upset about Vine Porn all of a sudden?
When you go to the Vine homepage, you're only supposed to see vines of people you follow or Editor's Picks. This morning, because of what Twitter is calling "human error," one of the Editor's Picks was a vine called "Dildoplay." So everybody saw that.
Aside from the occasional accidental Editor's Pick, can you happen across Vine Porn on Vine if you're not looking for it?
The only place you can really come across Vine Porn unwittingly is in the "All Posts" section of Vine, which is a list of the most recent vines. After scrolling through for about twenty minutes this afternoon — through literally hundreds and hundreds of vines — we were exposed to only two instances of Vine Porn: a dude jerking off and a dude peeing.
What is Vine doing to keep Vine Porn away from people who just want to watch clips of dogs and babies and people preparing their meals and twee stop-motion videos?
Twitter points out that "videos that have been reported as inappropriate have a warning message that a viewer must click through before viewing the video."  Of course, if it hasn't been flagged, Vine Porn will not carry a warning, and, like all other vines, will start playing automatically.
So is the Vine Porn outcry kind of overblown?
Yes.
What's even the point of six-second porn?
Well, it is on an infinite loop, so it's more like six seconds over and over and over again. 
Can anyone tell if I watch Vine Porn?
Only if they're hovering over your shoulder. Also, if you believe in an omnipresent God, God.
But, like, it won't show up on my Twitter feed or anything that I "just viewed 'Sexy Jigglebutt' on Vine," right?
Nope.
How would one go about finding Vine Porn on Vine, if one did want to watch it?
The best way is to search by tag. So, for example, you could search NSFW or ass to find videos tagged by its creators with the words NSFW or ass. Those are just two examples. [Update: This is no longer a good way to search for Vine Porn.]
What is the very most efficient way to watch Vine Porn?
You're going to use Vine exclusively for Vine Porn, I can tell.
JUST ANSWER THE DAMN QUESTION.
Okay, jeez. The very most efficient way to watch Vine Porn is VineRoulette, a website that puts dozens of vines on your screen at once based on a keyword of your choice. It would be like sitting on a porn control room.
Thanks. I have to run to a, um, meeting.
Yeah, you definitely don't want to be late for that meeting of yours.
*since this morning