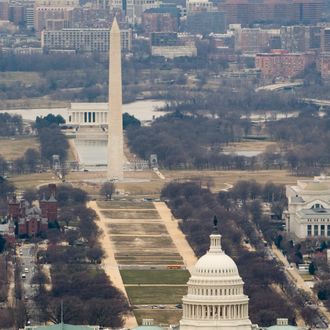 A distant land.
Photo: Saul Loeb/AFP/Getty Images
Washington, D.C.'s amount of insane media gossip surges past New York City's today with news of a libel lawsuit against Fishbow D.C., as noted by the Legal Times. Local publicist Wendy Gordon — "not a public figure," according to the suit — argues that the politics and media blog's weekly feature "Wendy Wednesday," which would "provide a false and humiliating description" of a photo from her Facebook, damaged her reputation and hurt her professionally. The suit then goes on to list examples, which are no doubt mean-spirited, and definitely not the kind of language we're used to seeing in official court documents.
Behold, a taste of the more tawdry stuff from the full complaint (PDF):
50. On August 22, 2012, Defendants published the following article titled "Wendy Wednesday" and authored by Mr. Ogburn:

As We always say this time of the week, if it's Wednesday, it's WENDY Wednesday. It's our weekly look at D.C. publicist Wendy Gordon and the insane pictures that she posts of herself on the Internet. Today, We have a classy Wendy at a party. That is, if your definition of classy is Wearing a low cut dress that allows your boobs to spill out under a tacky choker that looks like a bedazzled bicycle chain.

The sultry look on her face says it all. Wendy is DTF ["Down to Fuck"] and on the prowl. So, give yourself an extra blast of AXE body spray, maybe think about double bagging it and say hello to Cougar Wendy! […]

55. Contrary to Defendants' statement, Ms. Gordon Was not "DTF" (1'. e., "down to fuck" or looking to have sex) or "on the prowl" at this charity event, and to falsely claim otherwise is defamatory per se and grossly impugns her character.
There's more slang explanation, leading us to imagine that some distinguished attorney was paid to spend time on UrbanDictionary.com:
57. Defendants also stated that anyone seeking to have sexual relations With Ms. Gordon would want to Wear two condoms (i.e., "double bagging"), falsely implying that Ms. Gordon has some loathsome disease.

58. Defendants also falsely claimed that Ms. Gordon is a "cougar," which is a derogatory term for an older Woman Who is aggressively pursuing sexual relationships With much younger men, including men young enough to be the cougar's son.
There are also cameos by Tiger Woods and, because this is D.C., Marion Berry (both in wax statue form):
68. Contrary to Defendants' false and defamatory statement, Ms. Gordon had not "straddled Tiger Woods a few Weeks" earlier, or at any time for that matter. […]

77. Contrary to Defendants' false statement, Ms. Gordon was not "Wishing she was working the waxy wang" of Mayor Berry, or anything of the sort, and to suggest otherwise is not only false and defamatory, but disgusting and in extremely poor taste. […]

86. Contrary to Defendants' false and defamatory assertion, Ms. Gordon was not "straddling the neck of Tiger Woods." […]

87. Contrary to Defendants' false and defamatory assertion, Ms. Gordon does not emit some type of unusual heat between her legs that Would cause a Wax flgure to melt. […]
In violation of the Streisand effect, a juicy public lawsuit may not be the best way to make Fishbowl's crude commentary, most of which has been deleted from the website, disappear. That said, the $1 million in punitive damages and $1 million in compensatory damages Gordon is asking for might make her feel better. The suit names Fishbowl's parent company, WebMediaBrands Inc., editor Betsy Rothstein, and contributor Peter Ogburn, who told Daily Intelligencer in a statement, "We do not believe that there is any merit to the claims and plan to defend against them vigorously." Just a note: Giggling in court reads as guilty.