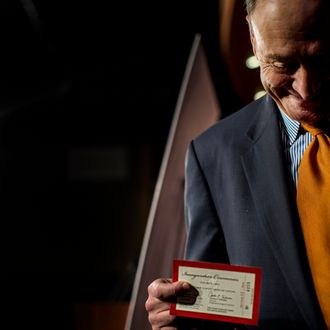 Chuck schumer with a ticket.
Photo: Melina Mara/The Washington Post
Over the past week, the Joint Congressional Committee on Inaugural Ceremonies has distributed a quarter million free tickets to President Obama's swearing-in on Monday. Each person who received one had a decision to make: Attend a historic (though not as historic as last time) event or flip the tickets for a few hundred bucks. Most have chosen history, but a handful put them on eBay and Craigslist in the hopes of swapping the privilege of squinting at a living president for a few dead ones. 
JCCIC chairman Senator Chuck Schumer doesn't like that. The inaugural ceremony tickets aren't illegal to sell, but Schumer still got eBay and Craigslist to agree to remove listings (eBay has, while Craigslist seems to be trying). "This is a chance for people from all 50 states to celebrate our democracy, not for ticket scalpers to make a quick buck," he said in a statement.

But is this really about easy money, or do Americans have legitimate reasons for passing on a chance to see Beyoncé for free? To find out, we combed through hundreds of Craigslist postings in search of candid scalpers who offer up an excuse for why they cant attend the inauguration. Here's what we found:
"Can't go because my crone's [sic] disease is acting up."

"I am poor and gotta pay the bills."

" … my grandmothercannot stand for that long and she is flying into town so I will watch it with her seated somewhere in DC."

"I put in a lot of volunteer hours to get these, but I would also like to continue to be able to pay rent."

"I'm willing to trade my 2 swearing –in tickets for an Ipad 3 or 4…. I need the Ipad for school."

"I don't have much money because I am a college student and am trying to make it from mid-America to Washington DC as well as afford a motel."

"Unfortunately I cannot go because I have to workso these tickets won't be used."

"Would love to attend, but would rather pay off student debt."