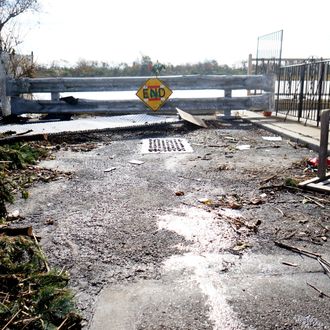 Gerritsen Beach post-Sandy.
Photo: Richard H. Cohen/Corbis
Police are investigating the death of a woman whose naked, charred body was found in a Brooklyn nature preserve on Sunday morning. A 911 caller found the remains around 7:15 a.m. in a clearing surrounded by thick brush on the border of Marine Park and Gerritsen Beach. The area was hit hard by Hurricane Sandy, but investigators say the unidentified woman's death wasn't storm-related, as it appears she died recently.