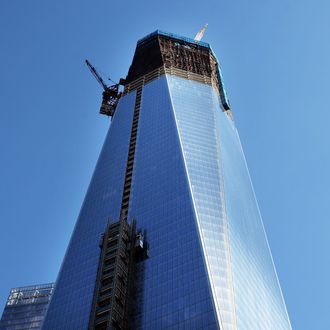 Photo: Spencer Platt/2012 Getty Images
When President Obama visited One World Trade Center last year he wrote a message on a steel beam: "We remember. We rebuild. We come back stronger!" Last week, the Associated Press reported that many others have left heartwarming messages scrawled on the building's structure, which will soon be covered over by drywall. "The words on beams, walls and stairwells of the skyscraper that replaces the twin towers lost on Sept. 11, 2001, form the graffiti of defiance and rebirth, what ironworker supervisor Kevin Murphy calls 'things from the heart,'" said the AP. "They're remembrances of the 2,700 people who died, and testaments to the hope that rose from a shattered morning." The image of a building with messages of love and patriotism covering its beams is pretty powerful, but now the Daily News has an alternate version of the story. The headline: "TOWER OF HATE: Racist and sexist slur-filled graffiti covers inside of new World Trade Center."
The paper's investigation, which includes photographs of blurred-out racial slurs and nasty comments about Obama, focuses on the men's rooms in the construction site, which are located on every fifth floor. "Most of it's racial," said the insider. "Most of it — I mean, there's a lot of stuff with the N-word. But pretty much every race is covered: Spanish people, Irish people, Jewish people, women." So essentially, everyone who wasn't already repulsed by the idea of slurs written in One World Trade Center has an opportunity to be offended.
The AP story did note that not every bit of graffiti is a beautiful tribute to America:
Time and daily routines have softened the communal grief as the workers carry on, trading jokes and gruff male banter. Some ends up in whimsical graffiti marking World Cup soccer matches, New York Giants Super Bowl victories and other less-weighty matters that have gone on since construction began six years ago. One crudely drawn map of the neighborhood down below shows the location of a popular strip
club.
Supposedly the graffiti is mostly like that last item. "Some guys write things like 'Pride' and 'God bless America,'" a source tells the Daily News, but "That's 1% of what's written. The other 99% is all negative s—." It's unclear how the AP failed to spot all that "negative s—," but hopefully it's a sign that the workers were respectful enough to confine their hate-filled musings to the men's room wall.