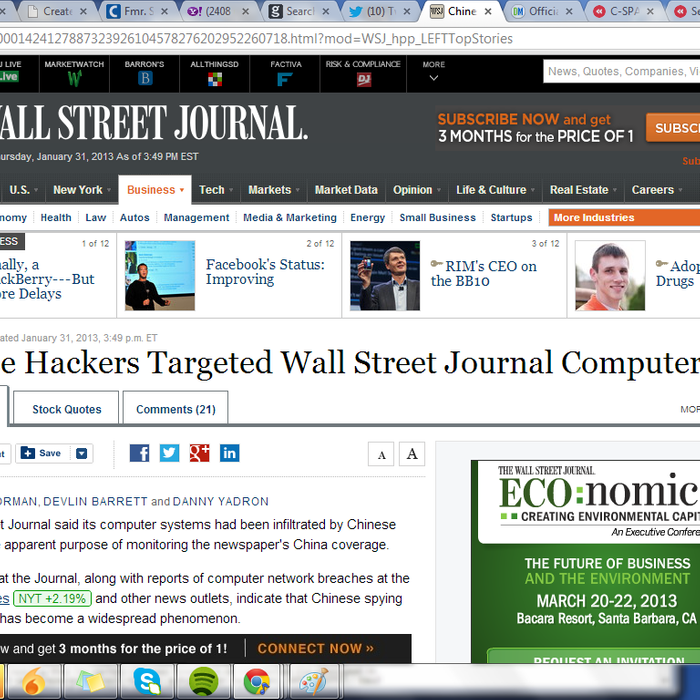 The Wall Street Journal reported today that the New York Times is not the only news organization important enough to be targeted by Chinese hackers. Following the Times' own self-referential exclusive about having its systems breached by the Chinese military, the Journal announced its own vulnerabilites: "Evidence shows that infiltration efforts target the monitoring of the Journal's coverage of China, and are not an attempt to gain commercial advantage or to misappropriate customer information," said Dow Jones spokesperson Paula Keve. 
And it's not just them. The Times, in an update to the original article, reports:
Last year, Bloomberg News was targeted by Chinese hackers, and some employees' computers were infected, according to a person with knowledge of the company's internal investigation, after Bloomberg published an article on June 29 about the wealth accumulated by relatives of Xi Jinping, China's vice president at the time.
According to the Journal, "Chinese hackers have for years targeted major U.S. media companies with persistent hacking, repeatedly penetrating deep inside some newsgathering systems." But it's not stopping them: "We fully intend to continue the aggressive and independent journalism for which we are known," Keve said. Hear that, New York Times? You, too, China.
Update: A Bloomberg spokesperson clarifies that while Chinese hackers tried, "no computer systems or computers were compromised."