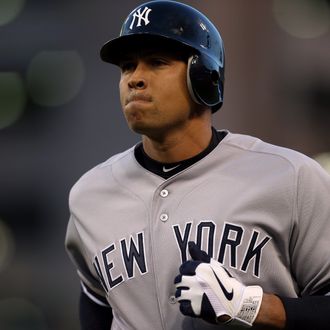 Prepare yourself for five more years of this face.
Photo: Jonathan Daniel/Getty Images
So yesterday, ESPN New York reported that if Major League Baseball disciplines Alex Rodriguez after investigating the latest performance-enhancing-drug allegations, the Yankees would attempt to void A-Rod's contract. For now, this is just a report that it's something the Yankees might explore at some point down the road, and that it's contingent on the league doling out some form of punishment. (A-Rod, by the way, denies the allegations.) But let's say for argument's sake the Yankees really do move to try to void A-Rod's contract. It wouldn't be an example of the Yankees taking some sort of stand against PEDs, or trying to satisfy those who want A-Rod gone because they think he's a liar and a cheat. It would be an example of the Yankees searching for any loophole possible to get out of the remainder of A-Rod's megacontract.
As a reminder, A-Rod has five years and $114 million remaining on the ten-year contract he signed after the 2007 season. This is the same A-Rod whom the Yankees thought so little of that Joe Girardi kept him on the bench in key spots during last year's playoffs, even before he knew the third baseman was injured. Rodriguez will be out until at least July after hip surgery, and he's been plagued by injury issues in recent years as his numbers have declined. He is 37 years old. So it's no wonder the Yankees would want to find a way out of that commitment.
Of course, there's no precedent for this, and if they wanted to somehow argue that they didn't get the player they thought they were paying for when A-Rod signed his contract, we'd counter by pointing out that they made no such argument in 2009, when A-Rod admitted to using PEDs while with Texas. Maybe they'd claim that this is different because the latest allegations say he used PEDs as a Yankee, even though, again, this sort of thing has never been cause to void a Major League contract in the past. (Remember, there are agreed-upon punishments for players who violate the league's drug policy, and those punishments don't include voiding the contract of what would technically be a first-time offender.) The real difference is that in 2009, A-Rod was still a productive player. The Yankees wanted him in their lineup, and it paid off when he had a monster postseason. Now, with his numbers declining and the Yankees trying to keep their budget in check, they're reportedly interested in seeking a loophope.
Imagine, by the way, the precedent that would set. Teams would be praying for their unwanted, overpaid players to be outed as juicers, so they could rip up their contracts. Wouldn't that be fun!
Then again, there's always the chance the Yankees could get out of honoring A-Rod's contract without actually voiding it. Fair warning: This is where things get really idiotic.
As Craig Calcaterra notes on Hardball Talk, both Darren Rovell and, more notable, Ken Rosenthal float the idea that A-Rod could try to find a doctor to say his injury is a career-ending one, allowing him to collect all his money while largely letting the Yankees off the hook. As Calcaterra notes, there's a name for this strategy. It's called insurance fraud. After all, no one believed A-Rod's injury to be career-ending two days ago.
Ultimately, the Yankees are exactly where they were at this time last week. They owe A-Rod a lot of money and they'd love to get rid of him, but they'll have a hard time getting out of that commitment. That doesn't change because of these latest allegations, as much as they might want it to.