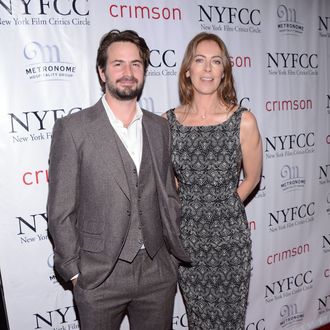 Boal and Bigelow.
Photo: Stephen Lovekin/Getty Images
Zero Dark Thirty scribe Mark Boal made light of the recent controversy regarding the film's depiction of so-called "enhanced interrogation techniques" at last night's New York Film Critics Circle Awards — but he, director Kathryn Bigelow, and star Jessica Chastain are serious about the integrity of the film.
First, the joke. When Boal accepted the honor of Best Picture, he quipped, "Unfortunately, I stand before you with some bad news. My sources at the CIA tell me that the government inquiry into the arts is not stopping. Apparently, the French government will be investigating Les Miz. This is very good evidence that their depiction of the June Rebellion contradicts the secret report."
This is of course in reference to the Senate Intelligence Committee's inquiry into whether the CIA — which cooperated with the making of Zero Dark Thirty — provided Boal false information about the importance of torture in finding Osama Bin Laden. When Daily Intelligencer caught up with Boal following the awards, we asked what he made of the investigation. "Look, that's way above my pay grade. But they have to do their job, and I have to do mine," he told us, cryptically.
Meanwhile, at a separate event last night, Zero Dark Thirty's star, Jessica Chastain had Boal's back. "I believe we made an accurate film," Chastain told us at the premiere of her horror film, Mama. "I have great trust in Mark Boal as an investigative journalist and as a screenwriter, and I have immense faith in Kathryn Bigelow."
Back at the New York Film Critics Circle Awards, Bigelow had a message for those who accuse Zero Dark Thirty of condoning torture. "I'm standing in a room with people who understand that depiction is not endorsement," she said during her acceptance speech for Best Director. "And if it was, no artist could portray inhumane practices. No author could write about them. And no filmmaker could ever delve into the knotty subjects of our time."
Additional reporting by Catie Keck.