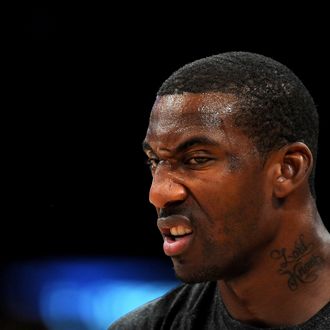 LOS ANGELES, CA - DECEMBER 29: Amar'e Stoudemire #1 of the New York Knicks warms up before the game against the Los Angeles Lakers at Staples Center on December 29, 2011 in Los Angeles, California.
Photo: Lisa Blumenfeld/Getty Images
It is important to remember that professional athletes often have so much going on in their lives that their public statements and endorsements are often haphazard and fleeting; quick statements that they don't often understand or think about much, but that we all make a big deal out of anyway. It is especially important to remember this when you note that the Knicks' Amar'e Stoudemire linked to Chris Dorner's manifesto yesterday from his Twitter account, adding, "Interesting! This is a must-read!" Whatever your thoughts on the tweet, you can probably expect a retraction, deletion, and/or an apology within the next twelve hours. Though we're not sure we understand Amar'e's next tweet much more than that one, to be honest. Though it's possible he is in fact a scientist in his spare time. Athletes: They're just like your e-mail-forwarding aunt.