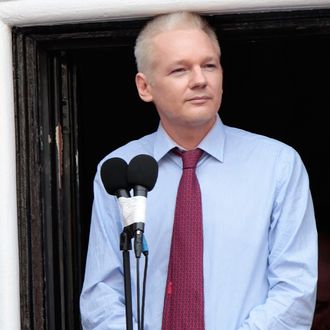 Photo: Rosie Hallam/Getty Images
WikiLeaks founder Julian Assange has been thinking of entering politics for some time now, but there's another upside to running for a seat in Australia's Senate. Assange tells website The Conversation that if he wins the election in September, he expects the Swedish, British, and United States governments will drop the potential criminal cases against him, as they won't want to start a diplomatic dispute. There's only one problem with this strategy: It's still unclear if he can run for office in Australia while he's stuck in the Ecuadorian Embassy in London.
Some in Australia say that he isn't legally qualified to run, but Assange counters that the law "specifies only that candidates must in principle be qualified to become a voter." He isn't currently able to vote, but he's applied to register as an overseas voter in Victoria, where he hopes to run. Winning the election would present other problems. He might have to take an oath in person (he speculates that this could be done "for the first time ever, by video link") and he'd need to take his seat within two months. "In that case, the Senate could vote to evict me," he says. "But that would trigger a big political row. Australians probably wouldn't swallow it." Though, it might be hard for him to gauge public opinion in Australia right now, as he's on the other side of the world.