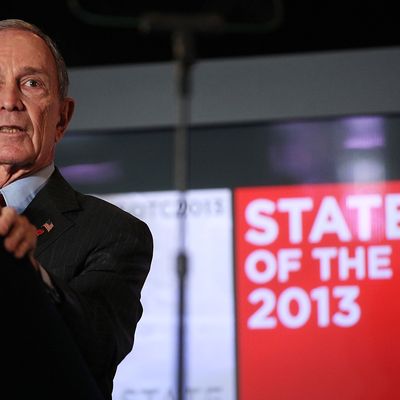 Bloomberg gives his final state of the city speech.
Photo: Mario Tama/Getty Images
Mayor Michael Bloomberg's twelfth and final (yes, really truly final this time) State of the City address this afternoon was in many ways perfectly emblematic of his nearly twelve years in office. The headline was banning plastic foam containers. Decreeing that the city will only allow biodegradable coffee cups isn't, of course, as life-saving as what will probably be Bloomberg's shining long-term achievement, the smoking ban, but it's a worthy addition to his list of achievements. Which, in the mayor's telling this afternoon, is a very long list: Records in everything from private-sector job growth to high-school graduation rates to life expectancy to tourists to teen pregnancy (a record low, that is).
Yet the most interesting symbolism related to today's speech wasn't the mountain of statistics, many of them debatable — though a love of numbers has certainly been a signature of the Bloomberg era. It was the mayor's choice of location that resonated. Bloomberg has rotated his State of the City speech site through the five boroughs. Today he went to Brooklyn, for the fourth time — Queens has been the location for three States of the City, the Bronx and Staten Island two each.
The tally is fitting: Brooklyn is a borough transformed since he took office in 2002. Gentrification was well under way by then, but it's accelerated dramatically in the Bloomberg years; one significant driver has been the administration's focus on re-zoning, a wonky concept but one with breathtaking consequences stretching from Williamsburg to Coney Island. Brooklyn's poorest neighborhoods are still struggling, though. Bloomberg doesn't get enough credit for trying to lift them with charter schools and crime reduction, perhaps because both efforts have come with serious downsides: the churning in traditional public schools and the friction generated by police tactics.
But it was the mayor's selection of his specific location today that spoke loudest. Atlantic Yards was first proposed in 2003; with the city in the early stages of recovery from 9/11 and an aggressively pro-development mayor in City Hall, Bruce Ratner showed a good sense of timing. New York State owned the land, and the Pataki administration, in particular, was instrumental in moving the project forward, but it never would have happened without Bloomberg's enthusiastic support, both political and financial. The city has contributed at least $179 million in subsidies to Atlantic Yards. Factoring in tax breaks sends the total much higher.
The price that's harder to calculate is how the creation of Atlantic Yards skirted basic democracy. So far the only finished product is the arena, which opened last September and has generated mostly favorable reviews as a piece of architecture and a place to watch sports and music. The greatest public benefit was supposed to be "affordable" housing; the first apartment tower is now under construction, but the rest could take another two decades to build.
Bloomberg's first State of the City speech, the only one he delivered in Manhattan, was somber and businesslike, delivered in the tight quarters of the City Council chamber just four months after the World Trade Center fell. Today, the final edition started with dancing Nets cheerleaders. It ended, though, with the same bracing Bloomberg call to get back to work. A full assessment of how he and the city got from there to here in three terms requires a longer story. But Atlantic Yards already stands as one monument to the Bloomberg years: Big, expensive, more praised than not — and accomplished by the top-down means that are one hallmark of this mayor's legacy.