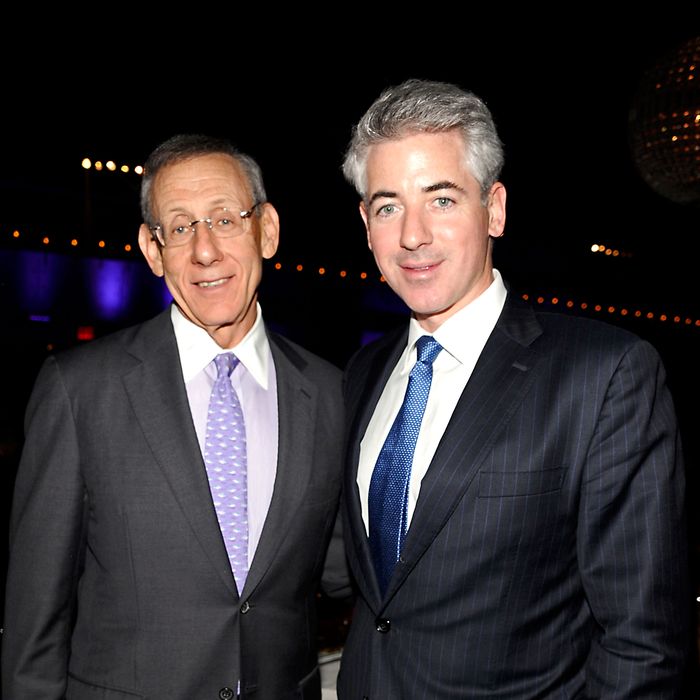 Photo: CLINT SPAULDING/Patrick McMullan
A large and mostly unexplored undercurrent running through the recent hedge-fund battle over Herbalife is the fact that Bill Ackman, the silver-haired hedge-fund investor who opened up the Herbalife can of worms in the first place by making a $1 billion short bet against it and accusing the company of being a pyramid scheme, is kind of a weenie.
Luckily, William Cohan has taken it upon himself to fill in some of the gaps vis-à-vis Ackman's human foibles in a new Vanity Fair article, which includes an anecdote that provides some tidy evidence that the hedge-fund manager's bluster and confidence is not all it seems. The anecdote goes like this:
Last summer, Ackman and fellow hedge funder Dan Loeb (who is betting against Ackman on Herbalife) took a long bike ride in the Hamptons with a group of friends. Loeb is in very good shape, whereas Ackman is a little rusty behind the handlebars but thinks he's Lance Armstrong. Disaster ensued:
"I had done no biking all summer," Ackman now admits. Still, he went out at a very fast clip, his hypercompetitive instincts kicking in … [S]oon enough Ackman faltered—at Mile 32, Ackman recalls—and fell way behind the others. He was clearly "bonking," as they say in the cycling world, which is what happens when a rider is dehydrated and his energy stores are depleted.

While everyone else rode back to Loeb's East Hampton mansion, one of Loeb's friends, David "Tiger" Williams, a respected cyclist and trader, painstakingly guided Ackman, who by then could barely pedal and was letting out primal screams of pain from the cramps in his legs, back to Bridgehampton. "I was in unbelievable pain," Ackman recalls.

As the other riders noted, it was really rather ridiculous for him to have gone out so fast, trying to lead the pack, considering his lack of training. Why not acknowledge your limits and set a pace you could maintain? As one rider notes, "I've never had an experience where someone has gone from being so aggressive on a bike to being so hopelessly unable to even turn the pedals…. His mind wrote a check that his body couldn't cash."
I'm sure the rest of Cohan's article (which isn't online yet) weaves the tale of this bike ride into a moral fable about Ackman's attempt to bully Herbalife out of existence and the dangers of hubris in Hedgistan. But, Herbalife aside, the bike-ride anecdote is also a good reminder that aggressiveness and performance are often poorly correlated when it comes to big-name investors. Sometimes, the guys doing the primal screams are covering up for something less flattering.