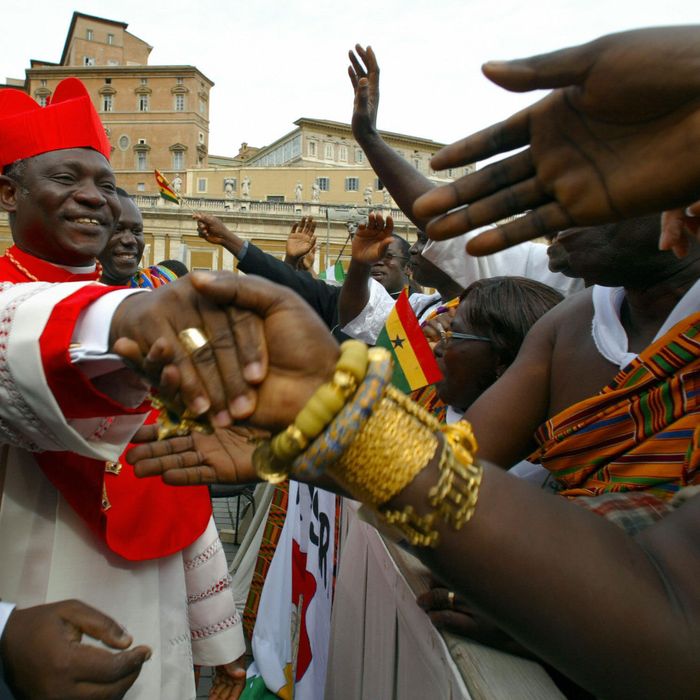 Will Ghana's Peter Turkson be the next pope? Nobody knows!
Photo: Patrick Herzog/AFP/Getty Images
It took about all of two minutes after Pope Benedict XVI announced his impending resignation today for the speculation about his successor to begin, and so far, overseas bookmakers are picking two black cardinals, Ghana's Peter Turkson and Nigeria's Francis Arinze, as the front-runners. Ladbrokes and William Hill have both put Turkson and Arinze in the top two spots, odds-wise, while PaddyPower has them tied in second behind Quebec's Marc Oullet.
Obviously, the selection of the first black pope, following about 2,000 years of nonblack popes — for comparison, Obama broke a streak of a mere 220 years — would be a momentous occasion for the Catholic Church, and for racial progress in general. But don't get too excited just yet. The bookmakers don't really have any idea what they're talking about.
If the name Arinze sounds familiar, it's because he was also a top pope prospect during the last papal vacancy, in 2005. Along with Italy's Dionigi Tettamanzi, Arinze had the best odds of becoming the next pope according to PaddyPower. Experts at the time pointed out that Africa was Catholicism's fastest-growing region, that the reign of the Polish John Paul II — the first non-Italian pope since 1523 — had set a precedent for geographic diversity, and that Arinze had the relevant experience of being the Vatican's liaison to the Muslim world for nearly two decades as the president of the Pontifical Council for Interreligious Dialogue. And yet, when the white smoke appeared fifteen days later, it was Germany's Cardinal Ratzinger who had been elected pope. PaddyPower's initial odds had placed Ratzinger in fifth.
The rationale for electing a black pope in 2005 is as valid today as it was eight years ago. And hey, it could certainly happen. But there's also a compelling argument for electing, say, a Latin American pope or a South Asian pope. And don't count out Europe just yet. "I would be surprised, but not shocked, to see a non-European," historian and Vatican expert Christopher Bellitto tells Daily Intelligencer. "I wonder if they want one more European and then they'll make the jump."