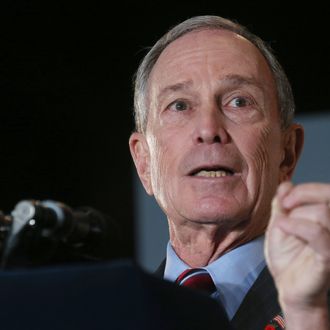 New York Mayor Michael Bloomberg delivers the annual State of the City address at the Barclays Center on February 14, 2013 in the Brooklyn borough of New York City. Bloomberg cited positive statistics including a record 52 million visitors to the city and a record low 419 homicides in 2012 while calling for a ban on styrofoam in the city.
Photo: Mario Tama/Getty Images
Debbie Halvorson, the Illinois congressional candidate targeted by Mayor Bloomberg's Independence USA PAC, claims that "people are personally outraged that someone from the outside is trying to influence this race." On Tuesday, Bloomberg countered that people are more offended by lawmakers like Halvorson who support the NRA. "It's just an outrage, and the public … should stand up," he said. "I'm part of the public. I happen to have some money, and that's what I'm going to do with my money — try to get us some sensible gun laws." The mayor didn't address Halvorson's accusation that he violated FEC laws by collaborating with her opponent Robin Kelly, but he made his point by failing to even mention the name of the candidate his anti-NRA ads happen to benefit.