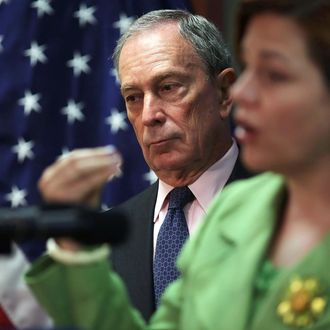 New York City Mayor Michael Bloomberg listens as City Council Speaker Christine Quinn speaks to the media at the opening of the Workforce1 Veterans Career center on July 31, 2012 in New York City. The center will offer area veterans assistance in their job search, help with resumes and classes on how to perfect the interview process. According to the Bureau of Labor Statistics, the unemployment rate for all veterans in June was 7.4 percent.
Photo: Spencer Platt/Getty Images
Mayor Bloomberg is at odds again with his preferred successor. Christine Quinn is pushing a bill to lower fines on street vendors, reducing the top fees from $1,000 to $500. On Thursday, Bloomberg said it's "one of the stupider" laws he's ever heard, then probably grumbled under his breath that Hillary would definitely be tough on hot dog vendors.