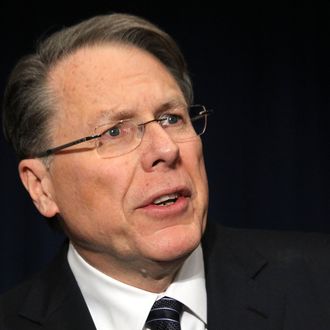 Wayne LaPierre.
Photo: Alex Wong/2012 Getty Images
Washington, D.C area residents opposed to gun control and/or non-humorous Super Bowl ads might want to head to the kitchen for another beer during the third-quarter commercial break in tonight's big game. While the 49ers and the Ravens take a brief pause from pummeling each other, Michael Bloomberg's Mayors Against Illegal Guns will go after the NRA in a 30-second spot calling for support on mandatory background  checks for gun sales. The clip, which was first online on Sunday morning, is pretty straightforward: While "America the Beautiful" plays and photos of little kids looking worried-yet-hopeful flash across the screen, a child's voice points out that the NRA was once in favor of background checks (no longer the case.) The little narrator then pauses to roll a video of NRA head Wayne LaPierre (who hasn't aged much) endorsing background checks to Congress in 1999. "America can do this. For us. Please," concludes the voice-over.
A Bloomberg spokesperson said the cost of the ad was in the six-figure range — less than the nearly $4 million it would take to run it nationally, but enough to reach the people MAIG is trying to reach here: D.C. lawmakers. Now the organization just has to hope that tonight's game is an emotional one.