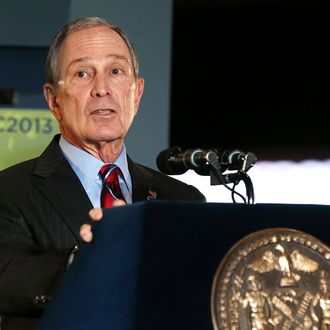 Photo: Mario Tama/Getty Images
Mayor Bloomberg has become a controversial figure in the race to replace Illinois Rep. Jesse Jackson Jr., though his intention was to draw attention to a Democratic candidate's pro-gun policies, not himself. Former Illinois congresswoman Debbie Halvorson is complaining that the election has been "compromised" by the $2 million Bloomberg's Independence USA PAC spent on ads highlighting the support she's received from the NRA. NBC Chicago reports that on Monday, Halvorson went even further, declaring that her Bloomberg-backed opponent, Robin Kelly, needs to be held accountable "for violating FEC rules with regards to super PACs."
For evidence, Halvorson is pointing to a report published earlier this month on the website Capitol Fax that stated, "Robin has been running around for six weeks telling donors the key to her win strategy was Bloomberg attacking Halvorson and Hutchinson." If Kelly and Bloomberg had collaborated on the ads, that would certainly violate FEC rules, but as noted in a Chicago Tribune editorial, "prior knowledge of something that may not be a well-kept secret is not against the rules." Bloomberg's plans to meddle in races across the country have been known for some time, and Kelly says this is just a "desperate move" from Halvorson, adding:
"It's ridiculous … I don't know him. He doesn't know me. I have not been in touch with him. You can't even legally be in touch with them. So it's untrue, that's all I can tell you."
The primary race, which is something of a test case for the PAC, will take place on February 26, and the general election is scheduled for April 9. It's unclear how Bloomberg's involvement will influence the outcome, but we already know it's an effective tool for infuriating candidates who don't agree with him.