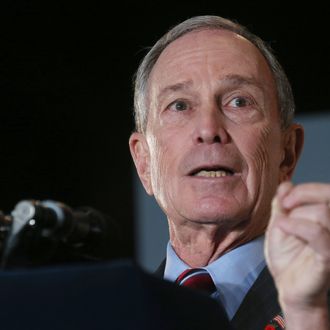 Photo: Mario Tama/Getty Images
Illinois congressional candidate Debbie Halvorson claimed that voters were "personally outraged" by Mayor Bloomberg's attempt to influence the race for the seat vacated by Jesse Jackson Jr., but the results of Tuesday's election suggest they have a bigger problem with gun violence in Chicago. Bloomberg's Independence USA PAC spent about $2.3 million on ads attacking Halvorson, who was backed by the NRA. Former state Rep. Robin Kelly won the Democratic primary, taking 53 percent of the vote to Halvorson's 24 percent with 72 percent of precincts reporting. Kelly is almost certain to win the general election on April 9, and the primary is being interpreted as a cautionary tale for other pro-gun Democrats across the country.
Both Kelly and Bloomberg, who denied Halvorson's claim that they violated FEC laws by collaborating on the ads, framed the win as a victory for gun-control advocates. "You sent a message that was heard around our state and across the nation," Kelly told supporters on Tuesday night. "A message that tells the NRA that their days of holding our country hostage are coming to an end." She refrained from mentioning Bloomberg by name, but added, "To every leader in the fight for gun control ready to work with President Obama and Mayor Emanuel to stop this senseless violence, thank you for your leadership and thank you for your courage." Bloomberg said in a statement, "As Congress considers the president's gun package, voters in Illinois have sent a clear message: We need common sense gun legislation now. Now it's up to Washington to act."
Liberal groups are describing Kelly's win as a "withering blow to the NRA," but the race doesn't actually give a clear picture of what would happen in a showdown between the gun group and Independence USA PAC. Politico reports that the NRA didn't do much advertising for Halvorson and only sent out a batch of mailers on her behalf during the last week of the campaign. Plus, other factors influenced the race. Prior to redistricting, Halvorson had represented part of the district, and as the only white candidate in the race, some thought she would benefit from her many opponents splitting the black vote. However, in recent weeks, Kelly won several key endorsements and was able to rally the support of the black community. According to early estimates, turnout was also particularly low thanks to a winter storm that hit the Chicago area on Tuesday.
Still, since Bloomberg argues that the key to the NRA's power is "a perception among the political world that the NRA has more power than the American people," creating the perception that his PAC can easily trounce pro-gun Democrats counts a win for the mayor.