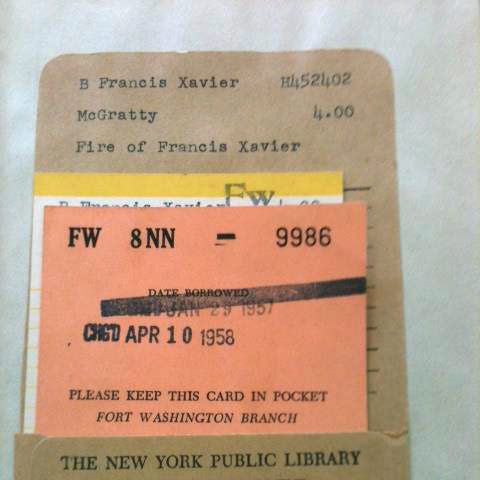 Perhaps owing to the dogged efforts of a humorless library investigator, a copy of The Fire of Francis Xavier was finally returned to the Fort Washington branch of the New York Public Library yesterday, 55 years after its 1958 due date. Even though the late fee would only have amounted to the cost of the book, the library fugitive chose to mail the book in rather than face the shame of returning it in person. Though it's unclear whether this is the latest book return in the history of the New York Public Library, it doesn't even approach the world record.
In June of 2011, a first edition of Charles Darwin's Insectivorous Plants — discovered when a retired veterinarian donated his book collection to the University of Sydney — was returned to a library in Australia 122 years overdue. The late fee of $37,000 was not enforced. And in May of 1998, a copy of Alexander Neckam's De Naturis Rerum was repossessed 135 years after it was borrowed from a library in Staffordshire, England, after it was found at the University of Chicago. The late fee of £4,192.30 was, once again, graciously waived.
Update: In response to a query, spokesperson Angela Montefinise tells Daily Intelligencer that the New York Public Library system does not have a Bookman. "While we actively pursue overdue library books in traditional ways - fine notices, calls, etc - we don't have a special investigator specifically dealing with overdue materials," she says.