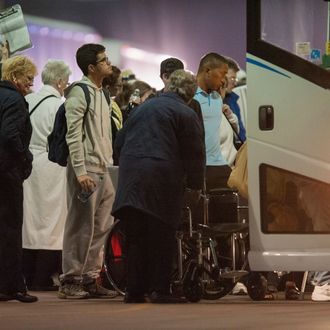 Passengers wait to leave by bus from the crippled cruise liner Carnival Triumph February 14, 2013 in Mobile, Alabama. An engine fire on February 10 left the ship and its 4,000 passengers without power and with scarce food, according to passengers onboard. While passengers reported toilets that wouldn't work, the ship was restocked with food during the days it was being towed through the Gulf of Mexico. According to reports, a few dozen people awaited the ship's arrival in Mobile, covered live by cable news network CNN.
Photo: Jeff Gammons/Getty Images
A bus carrying Carnival Triumph passengers from Mobile, Alabama, to New Orleans earlier today broke down, stranding everyone for "about an hour" until a replacement arrived. Some of those passengers then got to the airport in New Orleans only to find out that their flight to Houston was delayed because of electrical problems.