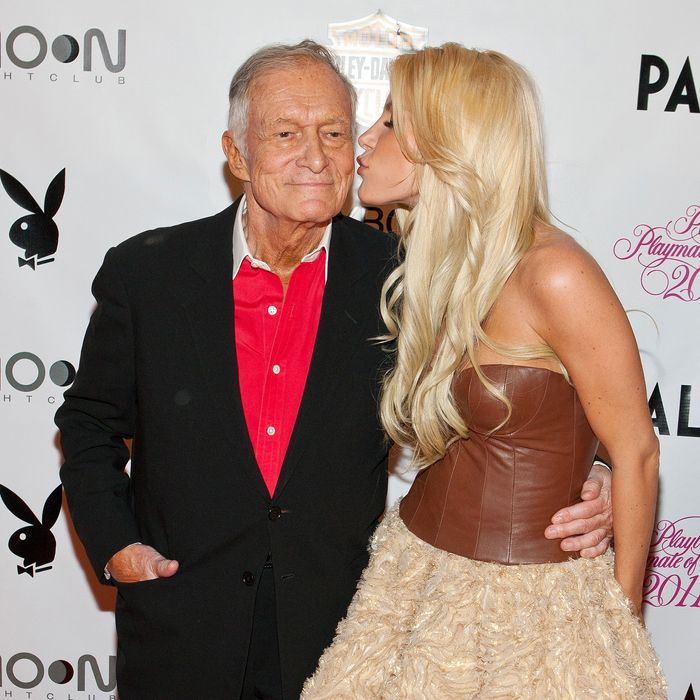 Hef.
Photo: RD/Kabik/Corbis
Keach Hagey at The Wall Street Journal has a good story today about Playboy Enterprises' attempt to reinvent itself as a leaner, meaner soft smut purveyor. The company was run by Hugh Hefner's daughter Christie until 2011, when Hefner himself — in collaboration with a private-equity firm called Rizvi Traverse Management — took it private in a leveraged buyout. Since then, it has gotten a new CEO (Scott Flanders, whom the Journal implies is a bit of a lecher) and embarked on a restructuring plan that has reduced its staff from 585 people to 165, and shaved millions of dollars in costs from its operations.
Now it's trying to reinvent itself as a licensing giant — a business that makes money by sticking Playboy's name on all kinds of clubs, TV shows, and merchandise. Put less gently, today's Playboy is much more focused on branding than boobs.
In many ways, Playboy is a classic media story. Like any number of newspapers and magazines across the country, it had a business model that was absolutely decimated by the popularization of Internet-distributed content. As advertising revenue dried up and subscribers fled, it tried to enter the digital age. And then, when it realized it couldn't catch up quickly enough on its own — partly because Apple and other digital content distributors wouldn't let them in — Playboy brought in private-equity turnaround experts to make some fairly painful cuts, outsource as much of its business as it could, and refocus on the parts that were making money. (Hilariously, it also took fake breasts out of the magazine and hired a "sexual anthropologist" to help it market its products to "a generation that grew up with free pornography on the Web.")
The new strategy seems to be working, sort of:
Today, Playboy is both smaller and more profitable. It now has annual revenue of $135 million, down from $240 million in 2009, the year Mr. Flanders came aboard. Adjusted earnings before interest, taxes, depreciation and amortization improved to $38.9 million for the year ended September, up from $19.3 million in 2009, the company said, but it fell short of a 2012 profitability target set by its lenders in loan covenants.
The key to the Playboy turnaround plan was always licensing. Even before it went private, licensing was by far the most promising part of Playboy's business model, since the costs associated with licensing are so much lower than the costs of printing a physical magazine, and since Playboy's brand still has major cachet despite the fact that few people subscribe to the magazine anymore. As the below chart shows, for the last two nine-month periods in which revenue data were available, licensing was the only one of Playboy's major business segments that grew. Both entertainment and print/digital shrank: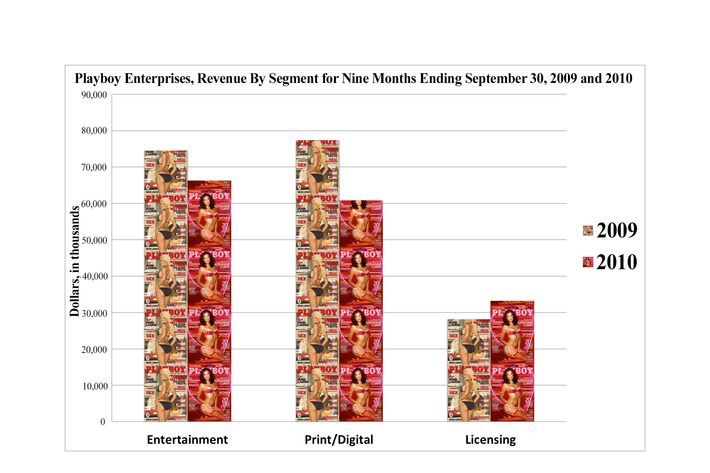 According to the WSJ, Playboy is making even more money from licensing now that it's private — $62 million last fiscal year, compared to $37 million the previous year. But there are some snags in the way of a full recovery — namely, a big licensing deal with porn giant Manwin that is falling apart, and a clock that is running out on some of its debt payments. (There is also the matter of CEO Scott Flanders, who has a brusque management style marked by "requiring employees to file regular reports to him detailing their conflicts with other employees in the company, and sometimes doling out verbal abuse.")
It's a tough time for both the porn industry and the media industry, and Playboy — which sits neatly at the axis of the two — might run out of time before it completes a full turnaround. But the steps Hefner and his private equity overlords are making are, in business terms, the right ones. Licensing an existing brand isn't as sexy as throwing parties at the Mansion or putting out a high-quality magazine. But it's a much better way to make money.