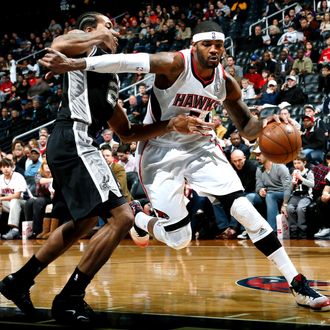 Not Croatian Bojan Bogdanovic.
Photo: Kevin C. Cox/Getty Images
Tomorrow is the NBA trading deadline, which is leading to all sorts of fanciful notions, from Kevin Garnett going to the Clippers to J.J. Redick going somewhere, anywhere. But the singular big fish in the trade waters is quixotic Atlanta power forward Josh Smith. When there's a fish that big, inevitably the two New York teams are going to try to get involved. To much amusement.
The Nets have essentially been openly salivating over Smith for several weeks now, with Smith theoretically filling their need for a scoring power forward. (Reggie Evans is generally unable to make a basket even if you don't guard him and also give him a boost to the rim.) The problem with the Nets' "attachment" to Josh Smith trade rumors is that, well, they don't have anything the Hawks want. The latest offer is Kris Humphries, MarShon Brooks, and either a first-round draft pick or "the draft rights to Croatian Bojan Bogdanovic," which we're not even sure is a real thing. ("Croatian Bojan Bogdanovic" sounds like the worst Ben & Jerry's flavor ever.)
The Nets, if they want to have Smith in the long term, would have to make this trade happen before the deadline, because the salary cap makes it unlikely they'll be able to fit him under the cap in any sign-and-trade deal. (Smith wants to get paid in the off-season, his big free agency opportunity.) They just have to hope that no one is willing to give the Hawks more than the Nets' offer of flotsam. The other teams going for him were thought to be the Milwaukee Bucks (offering Monta Ellis) and the Boston Celtics, who were eliminated because they didn't want to trade Paul Pierce. (It was weird of the Hawks to ask.) Which means, of course, the Knicks might be getting involved. Or at least trying to.
Frankly, though, the Knicks' offer is probably worse than the Nets'. They want to send Amar'e Stoudemire and Iman Shumpert to Atlanta for Smith and some filler. Of course, New York magazine would like to trade some old issues from back when Primedia owned us, along with this old desk chair that nobody uses and has some mysterious syrup stain on it, for Smith, too. The Hawks say they won't take back any "future salary," and "future salary" is basically Stoudemire's uniform number at this point. So no.
But it's the trade deadline, and made-up trade rumors are sort of the point. If anyone wants to trade us for this pint of Croatian Bojan Bogdanovic, have your people call our people.