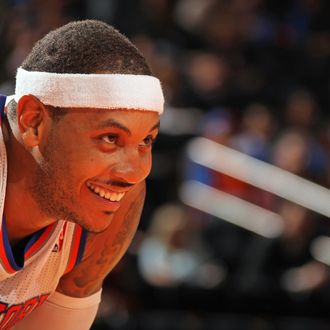 Yeah, well, he's not smiling now.
Photo: Nathaniel S. Butler/NBAE
Our favorite moment from last year's All-Star Game is one that already seems stupid and outdated. Late in the game, with the East down 151–149 (All-Star Game scores are the best), LeBron James had the ball at the top of the key, guarded by Kobe Bryant (who had broken his nose earlier in the game), with a chance to win. Rather than take the shot, though, LeBron tried a crosscourt pass that was intercepted by Blake Griffin, and the West had their win. Now, it's an All-Star Game: Nobody cares who wins. But this became yet another "LeBron Chokes in the Clutch!" moment, highlighted by a withering Adrian Wojnarowski column and, most memorably, this photo of Kobe and the Knicks' own Carmelo Anthony, baffled that LeBron wouldn't go for it there. LeBron was the butt of the joke, yet again.
Since then, uh, things have changed. LeBron has won a championship and ascended to heights not seen since Michael Jordan, and Kobe is stuck with an under-.500 team where everybody hates everybody else. Carmelo remains somewhere in the middle; more of a challenger to LeBron than Kobe, strangely, but still sort of on the outside looking in, the likable scoring machine who still doesn't quite seem like a serious title contender. This is what the All-Star Game is for, of course: A midpoint semi-rest in which the league's superstars, the ones who drive everything leading into the NBA Finals, get together and joke around one last time before matters start getting serious.
We'd been looking forward to this year's game for that very reason — to see where Carmelo fits in the hierarchy now that his team is the Heat's main opponent in the Eastern Conference — but last night might have ruined that for us. In what was almost certainly the Knicks' worst loss of the year, New York lost at home to Toronto 92–88 and may be heading into the break with an injured Carmelo. Anthony shot about as poorly as you can — 5-for-24 from the field — and, turns out, suffered a contusion of his right arm early in the game, causing numbness throughout. (When asked after the game why he kept shooting when he could barely feel his right arm, Carmelo said, "You'd have to be a shooter to understand." Okay then!) We'll find out later today or tomorrow, but it's now very possible that Anthony will miss Sunday's All-Star Festivities all together.
On the one hand, this is fine: If Carmelo's hurt, you don't want him testing that injury in a game that doesn't matter, particularly when the Knicks need him so badly on their upcoming stretch of tough games. On the other: It's kind of cool having your superstar in the All-Star Game. (Other Knicks hanging around Houston for the weekend include Tyson Chandler, playing in the game itself; Steve Novak, shooting three-pointers; and James White, dunk contestin'.) Despite their recent troubles, the Knicks still seem like as qualified a challenger to the Heat as anyone else in the conference — especially if Derrick Rose doesn't come back this season, as he's now hinting — and it might be nice to see that, and Carmelo acknowledged as such in Houston. But then again, if Carmelo isn't healthy or pushes himself back too quickly … well, the Knicks won't be challenging anybody for anything.
Basically: Last night's game just shouldn't have happened. It ruined a ton of stuff. Let's rewind and do it over.