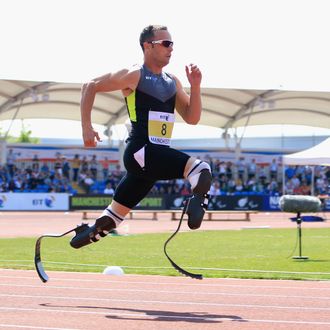 Oscar Pistorius of South Africa on his way to victory in the men's T42/43/44 200m during day one of the BT Paralympic World Cup at Sportcity on May 22, 2012 in Manchester, England.
Photo: Michael Steele/Getty Images
South African prosecutors say they already have a "rock solid" murder case against Olympian "Blade Runner" Oscar Pistorius, who allegedly killed his 30-year-old girlfriend, Reeva Steenkamp, last week. During a search of Pistorius's house, police found a blood-covered cricket bat. Steenkamp's skull was reportedly "crushed," and it seems likely that Pistorius attacked her with the bat before shooting her four times. (Another possibility: Steenkamp was using it to defend herself from her boyfriend.) Meanwhile, one of Pistorius's close friends, Justin Divaris, spoke to The Sun about the night of Steenkamp's death: "Oscar called me at 3.55am saying that Reeva had been shot. 'There's been a terrible accident, I shot Reeva.'" Divaris added that Pistorius was sobbing, "My baba, I've killed my baba — God take me away." Prudently, Pistorius's agent has canceled all of his upcoming races.
Update: Steroids were reportedly found in Pistorius's home, leading police to test his blood for the substance. Police have not commented on the steroid issue.