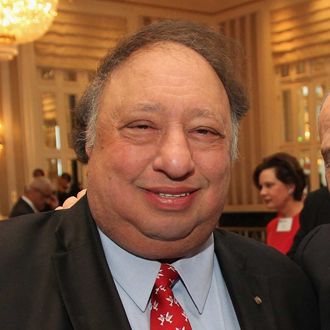 John Catsimatidis.
Photo: Donald Bowers/Getty Images
The subject of this mayoral forum was public education, and one hot topic was classroom overcrowding. Surprise: Everyone was against it. Perhaps, in part, because for 90 minutes last night the candidates could relate to fighting for attention and space — the seven of them were wedged in, shoulder to shoulder, onstage at midtown's ornate Central Synagogue.
Tom Allon, a Democrat turned Republican, had the most intriguing idea of the night: using the air rights of existing, antiquated schools as a chip to trade with developers in exchange for new school buildings. Joe Lhota, always a Republican, turned in a much stronger performance than at his debate debut last month, making a solid if long-shot case for teacher merit pay. John Catsimatidis mystified the audience by saying yes, he's a Republican now, but "I was a Clinton Democrat for twenty years." And that may have been the billionaire grocer's most coherent statement. Catsimatidis rambled from platitudes ("We are teaching kids to fail. We need to teach our kids to succeed") to bungles ("It is tough that a lot of kids have single-family homes"); soon the crowd of about 1,000 started murmuring impatiently halfway through Catsimatidis's answers.*
 
The Democrats all seemed to be talking both to the audience in the room and to the teachers' union, whose endorsement is a major prize. John Liu got the biggest cheers by calling for a moratorium on the co-location of charter schools; he also seemed to propose that high schools issue college degrees, right after decrying their inability to prepare students for college work. Bill de Blasio was crisp, and Bill Thompson emphatic, and both drew rounds of strong applause. Chris Quinn, oddly, was underwhelming. Her attempts at humor fell flat — "God knows we have enough data, right?" she asked, to silence — and Quinn's ideas for reform sounded opaquely bureaucratic: "We need a systemwide success study."
 
This was the second of three forums sponsored by the Daily News and Metro IAF; the third, next month, could be even more jammed if independent candidate Adolfo Carrion joins the pack. Tuesday night, on the way out of the synagogue, a group of women were discussing Quinn. "There's just no thoughtfulness there," one said, shaking her head. "It's too bad. I'd love to vote for a woman mayor." It was merely one opinion, on one night; Quinn continues to lead in the polls and to accumulate institutional backing. What she isn't generating, however, is much enthusiasm.
* This post has been corrected to show that there were about 1,000 people in attendance at the forum, not 200.