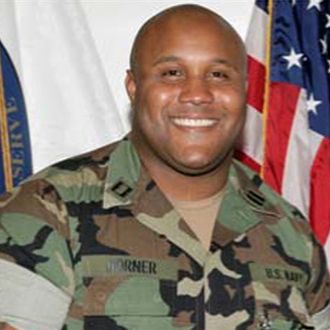 The search for Christopher Dorner has been effectively over since police chased him into a cabin that then caught fire on Tuesday evening. But even though they reportedly found his driver's license on a charred body within the cabin on Wednesday, he wasn't officially identified until Thursday, bringing an official end to the manhunt. Medical examiners used dental records to show the body was Dorner's, but they still haven't said what killed him. The fire burned the cabin to the ground and the body beyond recognition, so that's a good bet, but there are also reports police heard a single gunshot as the flames began to take hold, suggesting he committed suicide at the last minute.
The final proof of Dorner's death completes his martyr status for people who believe he had a point about racism in the Los Angeles Police Department. Dorner, who was dismissed from the department for falsely claiming his training officer kicked an immobilized suspect, wrote in his manifesto that he had been driven out of a racist department for breaking the "blue line" and reporting on a cop. That claim, and the suspicion that the San Bernardino Sheriff's Department started the cabin fire on purpose (a charge they steadfastly deny) have led many to sympathize with Dorner.
However Dorner's mother, Nancy Dorner, did not support his final acts, according to a statement released on Wednesday:
It is with great sadness and heavy hearts that we express our deepest sympathies and condolences to anyone that suffered losses or injuries resulting from Christopher's actions. We do not condone Christopher's actions. The family has no further comments and ask that our privacy be respected during this difficult time.