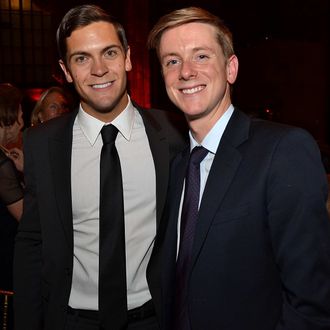 Photo: Amanda Gordon/Bloomberg via Getty Images
The New Republic owner and Facebook multi-millionaire Chris Hughes recently purchased a "sleek and sexy" modern home in New York's 19th congressional district, where his husband, investor and activist Sean Eldridge, plans to run for a House seat in 2014, Daily Intelligencer has learned. According to public records, Hughes paid cash for the $1,922,500 property in Ulster County, about an hour and a half north of the couple's $5 million, 80-acre estate in Garrison, where Eldridge considered running last year. The couple also owns a loft another 50 miles south in Soho, which they purchased for $5 million in 2010.
The new place is a two-bedroom, two-bath in Shokan with an in-ground pool and a hot tub, overlooking the Ashokan Reservoir. It was inspired by the designs of Richard Neutra, according to its previous owner, who had it built in 1998. "[W]e were very drawn to classic Modernist architecture," the previous owner told the New York Times. "In the summers I entertain a lot. And when people are here, the atmosphere feels charged — and don't take this the wrong way — sexy. The pool sparkles. The blue and green views cast a lazy haze."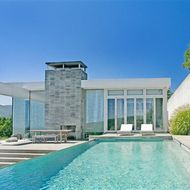 Eldridge said late last year that the Garrison property is where "we put down roots, where we want to have a family," and the location, in the district where tea partier Nan Hayworth won in 2010, fueled speculation among Democrats who'd spoken to him of his ambitions that he was eying her seat. But ultimately the politically active couple — Hughes worked for Obama in 2008 and Eldridge left Columbia Law to fight for marriage equality — campaigned for gay Democrat Sean Patrick Maloney, who defeated Hayworth in November.
In addition to Democratic fund-raising, Eldridge also founded the small business investment fund Hudson River Ventures and created the political action committee Protect Our Democracy, with the hopes of getting "big money" out of politics.
Eldridge, who was born in Canada and raised in Ohio, filed papers to run in the recently redistricted 19th, currently represented by Republican Chris Gibson, on February 1, after closing on the house in early January. He had insisted to New York's Carl Swanson in the fall: "No, I haven't considered running for office."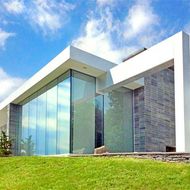 When he decided otherwise, our own Chris Smith called the incumbent "formidable" and warned, "[Eldridge] and Hughes split time among a number of palatial residences — the kind of things that will help Gibson try to paint the novice candidate as a dilettante and carpetbagger." And that was before this place.
"Our constituents know what Chris [Gibson] is about — he was raised in the Hudson Valley in a working class family, spent 24 years serving in the United States Army, and lives with his wife and kids around the corner from where he grew up in the small Village of Kinderhook," said Gibson's spokeswoman Stephanie Valle. "Simply buying a multi-million-dollar home at the top of a hill doesn't make you a local, nor does it give you an understanding of the people you would want to represent."
Mike Morey, a spokesman for Eldridge said today, "The Hudson Valley is where Sean and Chris have put down their roots. They live in Shokan, ten minutes away from Sean's office in Kingston, where he runs Hudson River Ventures."