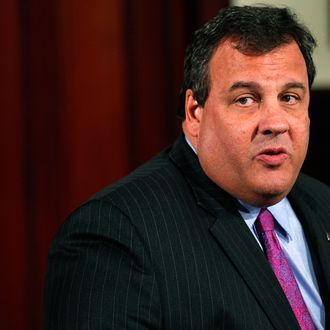 Photo: Jeff Zelevansky/2011 Getty Images
It's a good thing that the media noticed Chris Christie wasn't invited to this year's Conservative Political Action Committee conference, because otherwise the New Jersey governor might have shown up and started telling people about how much he respects President Obama. "I didn't know that I hadn't been invited to CPAC until like two days ago when I saw it in the news," Christie said at a town hall meeting on Thursday. The governor added that he wishes the folks at CPAC "all the best." "That's their call … It's not like I'm lacking for invitations to speak around the country," he said.
The chairman of the American Conservative Union, which organizes CPAC, wasn't quite as gracious. Al Cardenas told the National Journal that recent antics like accepting Obamacare's Medicaid expansion and pushing for an ostensibly wasteful $60 billion Hurricane Sandy aid package cost Christie an invitation. "CPAC is like the all-star game for professional athletes; you get invited when you have had an outstanding year," Cardenas said. "Hopefully he will have another all-star year in the future, at which time we will be happy to extend an invitation. This is a conservative conference, not a Republican Party event."
There are still a few prominent Republicans who weren't put off by Chris Christie lashing out at John Boehner and embracing President Obama. Politico reports that Eric Cantor, who pushed to get the Sandy aid bill to the floor after Boehner tabled it, added his name to a Christie fund-raiser on Thursday night, and Mitt Romney has already donated $3,800, the maximum contribution possible, to Christie's reelection campaign.