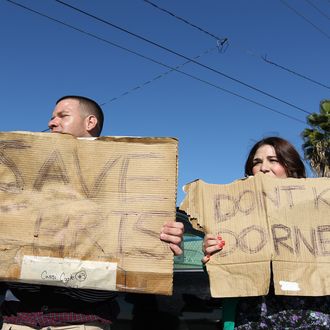 Frank Cardiel and Shantel Cardiel hold up signs in support of Christopher Dorner along the road in San Bernardino, California on February 12, 2013.
Photo: DAVID MCNEW/AFP/Getty Images
While most were relieved to learn that the bloody manhunt for Christopher Dorner had come to an end, for some it was the final step in the the fugitive ex-LAPD officer's martyrdom. During the manhunt, thousands of people rallied around Dorner, declaring him a crusader against police corruption, though he's accused of killing four people. On Tuesday night, a post on one of his biggest Facebook fan sites declared, "The spirit of Chris #Dorner will live on forever in our hearts, as an eternal flame - symbolic of the will to stand up in an attempt to eradicate those who would seek to oppress us, by any means necessary, when no one else would."
Fueled by the claim in Dorner's manifesto that he was dismissed when he tried to report police brutality, as well as the movielike quality of his war on the LAPD, the ex-cop was quickly dubbed a hero by some. Earlier this week, dozens of Dorner flyers imitating the iconic Obama "HOPE" poster were plastered on a street in Riverside, California, near where a police officer was fatally shot on Thursday. Online supporters frequently referred to him as the "Dark Knight" and shared relevant Batman quotes. Hashtags like #WeStandWithDorner and #GoDornerGo appeared on Twitter, and dozens of fan pages were created on Facebook. The largest, We Are All Chris Dorner, has attracted more than 3,600 likes.
Dorner was also embraced by the hacker collective Anonymous, which declared in a statement that while they don't condone the "vicious acts" he allegedly committed, they "sympathize and resonate with his struggle." "Dorner was not born a killer he was a law abiding citizen that was tainted by the corrupt and inhumane practices of the Los Angeles Police Department who serve only themselves," says the statement, which urges others to "raise arms against the LAPD." Anonymous offered to leak information for Dorner and claimed that it took down the LAPD's website, though police denied it.
Unsurprisingly, Dorner's fans have developed a variety of conspiracy theories about the story, including claims that the story was concocted to justify either tighter gun control or drone attacks on U.S. soil. Though details about the standoff that left Dorner dead are still hazy, his fans are sharing a video that purportedly shows LAPD officers discussing their plan to burn down the cabin where he was holed up, rather than trying to capture him. "Never confirmed #dorner killed anyone. No due process, no evidence. All of it was based on hearsay and sensationalism. 1984 is now," tweeted one supporter.
Others trusted the government enough to start a White House "We the People" petition "to look into the corruption in the LAPD that Christopher Jordan Dorner has spoke of." Dorner's supporters have succeeded in getting his case reexamined, but it doesn't seem likely that they'll quietly accept the conclusion, as the investigation is being carried out by the LAPD.