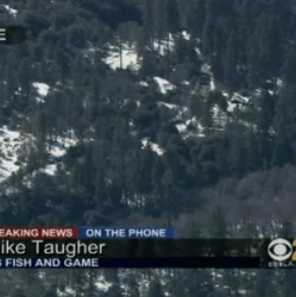 It was no misidentification of the Newtown shooting suspect, but the coverage of Christopher Dorner's standoff with police on Tuesday brought its own quirks and pitfalls, as journalists struggled to get the news out first in a fast-changing situation on which police were not eager to provide live updates. There were the little, awkward details such as Anderson Cooper getting shunted to HLN to talk to Nancy Grace while CNN switched over to the State of the Union. There was the widely circulated report that Dorner's body had been found, which the LAPD later refuted. And there were the deliberate interferences with the coverage by police and pranksters alike.
Most of the reports that a body had been found — including those in the Los Angeles Times, CNN, and NBC News — cited anonymous sources within law enforcement and Los Angeles Mayor Antonio Villaraigosa's office. The Riverside Press Enterprise reported that Riverside Police Chief Sergio Diaz had confirmed Dorner had been found dead. But then LAPD Capt. Andrew Smith said in a news conference that no body had been found at all. And Cindy Bachman, spokeswoman for the San Bernardino Sheriff's Department, said in a news conference police believed Dorner had entered the cabin and never came out. So is he dead? Probably.
The San Bernardino Sheriff's Department has been trying to get a handle on the flow of information, asking outright that reporters stop tweeting updates from the scene because it was "hindering officer safety." Southern California Public Radio called that an "unprecedented request" that followed a police request for helicopters to back off the scene. The tweet was later deleted, but it worked, sort of: Several outlets, such as CBS and the Riverside Press Enterprise curbed their tweets."It sounds like there is concern that Dorner may be monitoring Twitter for information as he as holed up in a cabin at Big Bear," wrote Jim Parker, CBS Local Digital Media's director of operations. Police never did explain why they targeted Twitter, in particular, and not other online information sources.
Then there was the old-fashioned phone prank, not very sophisticated but nonetheless effective enough to fool at least one CBS LA anchor. Someone called up claiming to be a State and Wildlife official named Mike Taugher, according to Mediaite. "At first, the caller answered the anchor's questions seriously, but then revealed himself to be a prankster when he said 'Ronnie the limo driver' was the one to initially open fire on Dorner." The unfortunate anchor pressed on, however, asking for details until the caller said, "You're a dumbass, you don't know this is a prank." The moral of the story, we guess, is that those doing live television should really brush up on their Howard Stern.