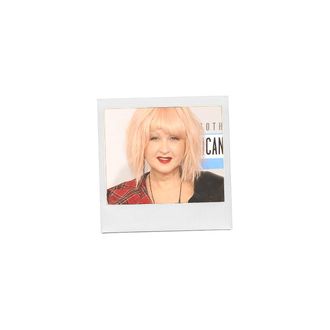 Name: Cyndi Lauper
Age: Timeless
Neighborhood: Upper West Side
Occupation: Singer/songwriter/composer of Broadway musical Kinky Boots/reality-TV star on We TV (Still So Unusual)/ Actor/Writer/Performer/Recording Artist/Advocate for LGBT youth/Mother/Wife/Friend.

Next Tuesday, February 12 at 7 p.m., you can catch her alongside Questlove hosting the 4th Annual Two Boots Mardi Gras Benefit Bash at (Le) Poisson Rouge, with a portion of the proceeds to benefit the LES Girls Club.
Who's your favorite New Yorker, living or dead, real or fictional?
Eleanor Roosevelt. She was a real New Yorker, using her position to make people listen to the injustices she saw: human rights, children's causes, women's rights to vote, and helping the poor.
What's the best meal you've eaten in New York?
Wow! Way too many to compare. I do love the juices from Organic Avenue, which I know you're gonna say isn't a meal, but sometimes it is! 
In one sentence, what do you actually do all day in your job?
Which one?!!!
What was your first job in New York?
When I was 17, my first job was at Simon & Schuster as "a gal Friday." Of course I was the worst one ever, fired, and then I called myself "a gal Friday the 13th"! But guess what: They just published my memoir, which got on the New York Times best-seller list, so go figure. We were meant to work together, just took a while to figure out how.
What's the last thing you saw on Broadway?
Newsies. LOVED IT. There is so much talent on Broadway; it blows my mind that I get to work there.
Do you give money to panhandlers?
Yes.
What's your drink?
Organic wines, because I have allergies (and it tastes good, too!).
How often do you prepare your own meals?
Rarely. Hey — this is New York. If it ain't delivered, I don't need it! But I do make a mean pasta sauce now and then.
What's your favorite medication?
None. I try to do yoga every morning, but these days, even that needs to be rescheduled.
What's hanging above your sofa?
Family photos.
How much is too much to spend on a haircut?
That really depends on who is doing the cutting, and since they usually have to come to me at whatever gig I'm doing, they are priceless.
When's bedtime?
2 a.m. 
Which do you prefer, the old Times Square or the new Times Square?
I'm a born and raised New Yorker … OLD Times Square, and if you need to ask why, fuggedaboutit!
What do you think of Donald Trump?
Disillusioned.
What do you hate most about living in New York?
Nothing.
Who is your mortal enemy?
Time. 
When's the last time you drove a car?
Yesterday, I drove my kid to school.
How has the Wall Street crash affected you?
Not a lot, thankfully.
Times, Post, or Daily News?
Times. 
Where do you go to be alone?
I walk my dog.
What makes someone a New Yorker?
A New Yorker can come from anywhere — ya either got it in ya or ya don't. But what makes a New Yorker a true New Yorker is taking the subway. Knowing it, using it, and depending on it.