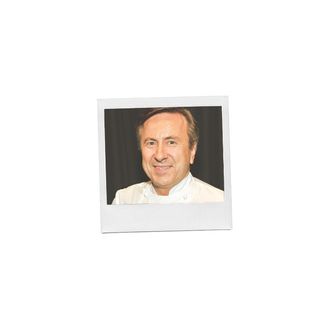 Name: Daniel Boulud 
Age: Over 50 
Neighborhood: Upper East Side 
Occupation: Chef-restaurateur, and this Sunday the host of the official Academy of Motion Picture Arts and Sciences Oscars viewing party at his restaurant Daniel.
Who's your favorite New Yorker, living or dead, real or fictional? 
My daughter Alix, for being the first one of the Boulud family born in New York City.
What's the best meal you've eaten in New York?  
Maybe not the best ever but it was my first "best" meal win NYC: Quilted Giraffe on Second Avenue in 1982, and many more followed after that with Barry Wine. The famous dish was the Beggar's Purse topped with caviar. It would come to the table on a columned pedestal and with no utensils! You would have to use your mouth to eat the whole purse, and while you are attempting this, Barry would come and take a Polaroid of you.
In one sentence, what do you actually do all day in your job? 
I bitch at (everyone including) myself about making everything perfect.
What was your first job in New York? 
1982, Westbury Hotel, 69 and Madison, at the Polo Lounge as executive sous-chef under Patrice Boely.
What's the last thing you saw on Broadway? 
Glengarry Glen Ross. It was fantastic to see Al Pacino — I was once told I looked a lot like him when I worked at the Polo Lounge. 
Do you give money to panhandlers? 
Yes, I do, and it's even better if they have talent.
What's your drink? 
Water during the day, Campari and tonic as an aperitif, wine with my meal, and whiskey to chill out after. (I just collaborated on a bespoke single malt with the Dalmore that comes out this spring, so I am very partial when it comes to whiskey.)
How often do you prepare your own meals? 
Rarely at work, but often at home. I love to make a one-pot meal — think stir-fry but in the French Fricassée. I start with what takes the longest to roast and then add vegetables, fresh herbs, and starch until the meal is complete in one shot.
What's your favorite medication? 
French Doliprane — a basic painkiller — for hangovers. 
What's hanging above your sofa? 
A Chuck Close self-portrait, given to me as a gift from a good customer as a thank-you for cooking an elaborate meal in his home for he and a friend.  Since then, I have become very close with Chuck the artist and invite him every year to enjoy black or white truffles at Daniel or my home. 
How much is too much to spend on a haircut? 
There is always an extra price for a hairdresser who is talented, available, and quick in NYC. My choice is Elie Camoro at Fekkai.
When's bedtime? 
12:45 a.m. on a normal night. Never after three on a party night.
Which do you prefer, the old Times Square or the new Times Square? 
The new is always better, but people have to get used to it. It's become a modern piazza: a place where people gather, socialize, and where visitors can experience the epicenter of the city.
What do you think of Donald Trump?  
Ambitious, smart, hard worker, and a real New Yorker from Queens.
What do you hate most about living in New York? 
Not getting to spend enough time in Central Park.
Who is your mortal enemy?
Time.
When's the last time you drove a car? 
A few weeks ago in Lyon, during the Bocuse d'Or competition. I love to drive, especially on tracks, where I go a lot faster.
How has the Wall Street crash affected you? 
I have seen a few in the last few decades and seem to weather them all — we have a very generous and loyal clientele we are very grateful for.
Times, Post, or Daily News? 
In order of how much time I have to dedicate: Times, Post, Daily News. 
Where do you go to be alone? 
If I want to be alone, I don't tell!
What makes someone a New Yorker? 
If you aren't born here, to be a real New Yorker, you have to bring your talent, be a successful mentor, and support the New Yorkers who made the city by giving back.