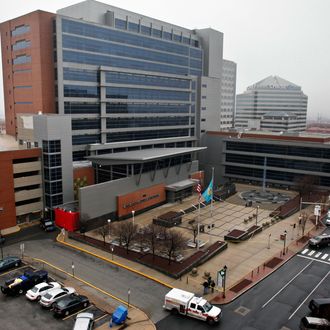 Photo: Joseph Kaczmarek/AP /Corbis
A man opened fire at a Delaware courthouse this morning killing two women and injuring two police officers before turning the gun on himself in yet another mass shooting. Lawyer Jennifer S. Lubinski says she witnessed the whole thing and proceeded to document the chaos on Twitter: "Where's the #NRA as I'm hiding in parking lot?" she wrote. "You don't know what you're going to do when something like this happens. I hid in corner shaking like a baby." Then some gun advocates with too much free time, zero empathy, and the protection of a screen found her.
Rather than back down, Lubinski continued to retweet her critics, drawing even more Internet ire:
At the very least, that seems to be a misunderstanding of the Miranda warning.