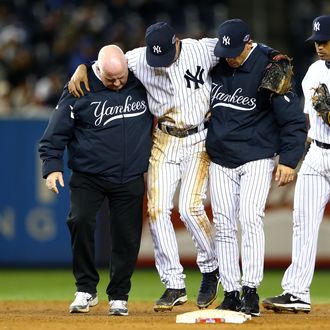 Still sad.
Photo: Al Bello/Getty Images
Yesterday at Yankees spring training in Tampa, Derek Jeter made his first appearance before reporters since that gruesome, demoralizing broken ankle in the American League Championship Series last October. Jeter is more important to the Yankees this season than he probably should be — he's turning 39 years old in June and the Yankees sort of desperately need him to play 150 games at shortstop and probably lead the league in hits again — so it was a relief to see him healthy and slim (no Derek Eater here) and ready to go. But don't get the impression that Jeter is happy.
Jeter said he expects his ankle to be fine and dandy and ready to go for the opening day game against Boston on April 1 — it stinks, by the way, that the Yankees are opening with the Red Sox; we always like working our way up to those games — and that he's going to be careful with it for the next couple of weeks while the bone finishes up its healing. But the main takeaway from Jeter's chat was just how awful his winter was. Nobody put it better than Andrew Marchand at ESPN New York.
"The captain known for being photographed by the paparazzi in exotic locations with his famous girlfriends in the offseason was confined to his home and had to learn to walk again," Marchand writes. Turns out, Jeter, because his ankle was immobilized after the surgery, had to basically sit on his couch for five to six weeks. Marchand's description of this is sort of wonderful:
Recovering from his broken left ankle, Derek Jeter spent the winter cruising around his 30,000-square foot mansion on a scooter.
That sounds less "Jeter recovering from surgery" than "Howard Hughes bottling urine." (We can't help but wonder if Jeter ever looked like he did when filming his cameo in the Will Ferrell comedy The Other Guys.) Also: That 30,000-square-foot mansion? It's in Tampa. (Well, Davis Island in Tampa.) Now, we know that Florida famously has no state tax (making it the primary destination for off-season athletes), but come on, Derek: You make your full-time home in Tampa? Joe DiMaggio lived in San Francisco in the off-season; Mickey Mantle at least went home to Oklahoma in his downtime. A-Rod should be in Florida; ride your scooter around St. Barts or something.
Watching Jeter age — even at the slow rate he's been doing it — has been disconcerting for any Yankees fan, but the idea of the Captain putt-putting around an empty mansion in Tampa, ordering Domino's Pizza (but only before 9 p.m., when everything in town closes), watching Cinemax, is thoroughly depressing in ways we don't even want to explore further. Jeez, get back on the field, Derek. We want the image wiped from our heads.